Building big for Buddha
by Babita Persaud, Orlando Sentinel, December 5, 2006
Guang Ming Temple will be one of the largest religious centers around.
Orlando, FL (USA) -- It's 10 a.m. on a weekday, and members of the Guang Ming Temple congregation are picking up trash. One person sweeps. Another wipes dust from ceramic tiles.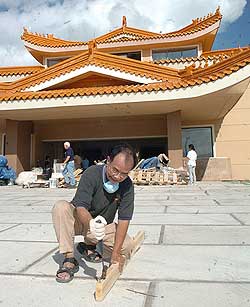 << Guang Ming congregation member Bill Eng pitches in on construction of a 3-story temple going up on Hoffner Avenue in Orlando.
(GEORGE SKENE, ORLANDO SENTINEL)
It still may be a construction site -- walls need painting, shrubs need planting -- but members are as eager as new homeowners to show it off.
"It's a joy," said Lana O'Neill, wearing thick gloves and smiling.
For years, the Buddhist organization worshipped in a beige warehouse near Florida Mall. Before that, the sanctuary was a 3,000-square-foot house in Kissimmee.
"We have been mobile so many times," said Sue Lee Lin, vice president of the local Buddha's Light International Association.
But early next year, they will have a permanent home resembling temples in China and Taiwan, homelands of many in the congregation.
The nearly $5 million Guang Ming Temple will be the largest Chinese Buddhist temple in Central Florida.
The temple at 6555 Hoffner Ave. rises three stories and spans 30,000 square feet. The saffron-colored roof has corners that sweep toward the sky like "a big eagle in flight," said Eddie Yeh, president of the local Buddha's Light association. "We want it as authentic as possible."
A long concrete path -- called the Pathway to Buddha -- leads to the temple's heavy wood doors.
Downstairs is a vast meditation hall. A Buddha statue weighing a ton and valued at about $50,000 sits on the altar, still wrapped in plastic. Imported from Burma and carved from white marble, the sitting Buddha was hauled into the meditation hall in two pieces, missing the door frame by a half-inch, Yeh said.
Masterful touches
Two chandeliers, each valued at about $35,000 and shaped like lotus blossoms, will dangle from the room's canopy. They will be installed in January.
Upstairs is the "Zen Room" for meditation and a library filled with volumes of Buddhist scriptures -- sutras.
The temple has a tearoom, kitchen, offices, classrooms, multipurpose rooms for summer camps and dormitories for visiting monks.
The temple also will be wired, allowing video to be broadcast to overflow crowds during festivals, such as Buddha's Birthday in May.
Outside, an octagonal walkway surrounds a garden and leads to the mausoleum, where nearly 4,000 marble tiles cover the walls.
The project is a local and international effort.
Yeh, who runs a distribution company that supplies about 400 Asian restaurants in Central Florida, donated the 5 acres. The building was designed and built by Francis Lizardo's Casselberry firm, which typically works on churches and office buildings.
"I did a lot of research," said Lizardo, who has been in the business 26 years.
Most of the exterior is finished. Inside fixtures and painting will be completed in the coming weeks, Lizardo said.
The temple will rank among Orlando's largest religious centers, including the Hindu Temple in Casselberry, which sits on 10 acres, and the Wat Florida Dhammaram in Kissimmee, a 2-acre campus that houses nearly 10 buildings and shrines.
For the Guang Ming, which means "bright light" in Mandarin, $1 million was raised locally.
<A TARGET="_top" HREF="http://ad.doubleclick.net/click%3Bh=v8/34b3/3/0/%2a/b%3B55829381%3B0-0%3B0%3B14650931%3B4307-300/250%3B19225761/19243656/1%3B%3B%7Efdr%3D57170544%3B0-0%3B0%3B12928199%3B4307-300/250%3B18983378/19001273/1%3B%3B%7Esscs%3D%3fhttps://www.suntrust.com/Microsites/cashmanagement/index.html"><IMG SRC="http://m1.2mdn.net/1162659/sntst_bnr_q3-300x250_v1.gif" BORDER=0></A>
Another $3 million to $4 million comes from an interest-free loan through the International Buddhist Progress Society in Taiwan, the umbrella organization that runs the Orlando temple.
The organization, which has helped establish 250 temples worldwide, was founded by Venerable Master Hsing Yun, who left China for Taiwan in 1949 during the Chinese civil war. In 1967, he established the Fo Guang Shan (Buddha's Light Mountain) monastery, the largest religious organization in Taiwan.
Making do for now
In 1992 Yun, now 79, founded the Buddha's Light International Association, which has more than 1 million members worldwide. He visited Central Florida in the summer and led the congregation in prayer.
For now, the local congregation worships in the upstairs offices of Kim Lai Shing Market, Yeh's company.
A wooden shoe rack sits under the stairs. Paper lanterns and bamboo blinds attempt to camouflage an office atmosphere of track lighting, folding chairs and tables.
Members are mostly immigrants from Taiwan, China and Hong Kong. Some drive hours for Sunday morning services.
"We pray for the temple," said Vicky Lu of Melbourne. "Our dreams come true."
After the service, small children met for a computer class, and teens gathered for discussions. They wore jeans and T-shirts. Some brought their American friends. One did her algebra homework.
They also learned about the different forms of Buddha: Medicine Buddha, Buddha of a thousand hands.
"Buddhism teaches you how to deal with life," said Lillian Wu, a youth leader.
The new temple is being built for the youth, said Yeh, who has seven children, all but one born in the U.S.
"Step by step, you have to connect with the new generation," he said.