Monk reflects on a growing faith
By WAVENEY ANN MOORE, St Petersburg Times, January 13, 2007
St Petersburg, FL (USA) -- The Buddhist monk sat lotus-style before a small group of rapt devotees in a nondescript Pinellas Park home. He taught about "loving friendliness" to all beings, about truth and about peace.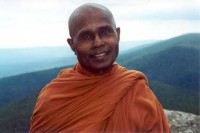 << Bhante Henepola Gunaratana
Bhante Henepola Gunaratana, who was visiting from a monastery he founded in West Virginia, appeared much younger than his 79 years. Originally from Sri Lanka, he is considered a pioneer of Buddhism in the United States. He said when he arrived in America in the 1960s, there were few books about the faith, and only scholars seemed interested in Buddhism.
Now the religion is growing rapidly in America and elsewhere, said Gunaratana, who warned those gathered that they must learn the correct interpretations of Buddha's teachings.
"The truth does not change," said the man who has been a monk since he was 12.
There were at least 1,082,000 adult Buddhists in the United States in 2001, according to the American Religious Identification Survey, which was done by the Graduate Center of the City University of New York. Gunaratana and others believe there are many more now.
The religion is growing in the United States because of immigration and non-Asian converts, but it is probably growing fastest in Australia, the monk said.
Jim Cameron, an ordained Buddhist minister who runs the Bodhi Tree Meditation Center in Largo, which Gunaratana helped found in 1987, thinks the Tampa Bay area reflects the growth in Buddhism that can be seen nationwide.
"I think the Tampa Bay area may be the fastest growing in the U.S. I really believe that. There are 25 groups," Cameron said. "Buddhism addresses very fundamental human concerns, basic issues of life, and it offers a very practical approach."
During a recent interview, Gunaratana explained why he thinks the faith has grown.
"People are attracted to the Buddhist message of peace," he said. "This is the religion that has never had the history of shedding one drop of blood," the monk said, adding, however, that individual Buddhists have not all adhered to the teaching.
Other things also make the religion attractive, he said.
"It's because it is nonviolent and nondiscriminating," he said. "We have no discrimination, no gender discrimination. We emphasize meditation."
The monk, who founded the Bhavana Society, a monastery in rural West Virginia, said his book on meditation, Mindfulness in Plain English, has been translated into 20 languages. Among his other books is Journey to Mindfulness, The Autobiography of Bhante G., written with former St. Petersburg Times reporter Jeanne Malmgren.
The Pinellas Park home was just one of several stops Gunaratana made while in the Tampa Bay area. He also planned to go to Miami and Boston, and to teach a course on a cruise ship.
He sat on a cloth-draped chair as he taught last week. Those who had come to hear him sat barefoot on the floor. A tiered altar covered with silky red fabric dominated the small living room. On it was a gold-toned statue of Buddha and offerings of candles, bouquets of flowers and bowls of fruit. Garbage trucks rumbled past the home as he gave his mid morning lesson.
The small home in Pinellas Park houses the Samadhi Buddhist Meditation Center run by Bhikkhuni Sudarshana, a Buddhist nun from Sri Lanka, and several monks. Sudarshana led a chant after Gunaratana's teachings and served the monk a vegetarian meal that included rice, a dish of lentils, noodles and vegetables. Monks must eat their two daily meals after sunrise and before noon, and their food must be in the form of offerings.
Gunaratana has been in the Tampa Bay area many times before. In 1987, when he was invited to Florida to celebrate Buddha's birthday, he helped found the Bodhi Tree Meditation Center at 11355 Dauphin Ave., south of Walsingham Road in Largo. The 1-acre property includes a meditation hall, outdoor areas for walking meditation, a bookstore, and a specimen of the Bodhi tree, under which Buddha is said to have found enlightenment. The center has Sunday gatherings and extended retreats.
Cameron is a staunch admirer of Gunaratana and says he has tried to emulate him in at least one area.
"When he addresses people, he always addresses people as friend, and many years ago, I started doing the same thing," he said. "I found it is transforming. It's such a connecting way with other human beings, no matter who they are."
Fast Facts:
For more information
Bhante Henepola Gunaratana and the Bhavana Society, West Virginia: www.bhavanasociety.org/visit
The Bodhi Tree Meditation Center, Largo: www.bodhitreefla.org