Buddhist nun's path to peace leads to Florida
By WAVENEY ANN MOORE, St Petersburg Times, March 4, 2007
A Sri Lankan who defied her country's traditions now runs her own temple.
PINELLAS PARK, Florida (USA) -- The petite woman with a shaved head, saffron robes and slippers carefully selects fruit and vegetables from the produce stand bins.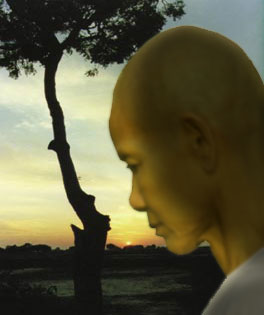 Here, she doesn't turn heads. She's a regular. But it's not unusual for Bhikkhuni Sudarshana Peliyagoda, 37, to stand out in a crowd.
In Sri Lanka at 16, and against her mother's wishes, she became a Buddhist nun.
She went on to defy her country's traditions by earning the coveted "high ordained" title, a distinction reserved at the time only for monks. She then trained others to follow her lead. Now Bhikkhuni Sudarshana is believed to be the only Sri Lankan Buddhist nun to run her own temple in America.
This week the intrepid nun will be honored in Thailand at a conference for outstanding Buddhist women. She's also been invited to speak next year at an international event in Germany.
She works to straddle both her worlds.
Back home in Sri Lanka, they'd be shocked to see her driving, she said. And she has a mortgage, which she pays by working as a certified nursing assistant at PARC.
While working, she sheds her traditional robes and dons a Korean tunic and pants, because it's more practical, she says.
Taking vows
She grew up in a comfortable home with two sisters and a brother. Her parents owned a hotel and grocery store. As far back as she can remember, she yearned to follow in the footsteps of her father's sister, a Buddhist nun.
"I didn't know anything about this life, but I wanted to be a nun," she said.
Her father tried to discourage her. When he was killed in a robbery, her desire to become a nun became even stronger. Just 12, she begged her mother to let her join her aunt at the temple.
"My mother said you have to study," she said. Obeying, she finished high school. A year later, she took her first vows.
Her waist-length hair was cut and her head shaved for the occasion.
"I gave my hair to my mom," she said, adding that her mother had been too upset to attend the ceremony.
She went on to earn a bachelor's and two master's degrees, taught high school girls and studied for two years at a Buddhist temple in India. In 1996, she received her high ordination orders, earning the title of Bhikkhuni.
Coming to America
She arrived in America in 2003, the lucky recipient of a visa through the State Department's lottery program.
"I have never seen a western country," she said. "I wanted to go and try."
She started out as a caregiver for an elderly St. Petersburg woman. She learned to drive and became familiar with American culture. Until recently, she took English classes at St. Petersburg College.
There was plenty to learn. She didn't know how to cook, because, according to custom, meals for the temple were provided from the offerings of lay people.
"I didn't even know how to cut an onion," she said, laughing, and added that several times she had to resort to long distance tutoring from her mother.
Van Wallace and his wife, Nancy, met Bhikkhuni Sudarshana through a Sri Lankan monk in Clearwater. Wallace, a St. Petersburg retiree, said Bhikkhuni Sudarshana has become a good cook.
"She is just remarkable in every aspect, in her kindness and diligence and her motivation for life. She's also a very intelligent person," Wallace said.
Last May, she established her temple and the nonprofit Samadhi Buddhist Meditation Center. No palatial edifice, it's actually a three-bedroom Pinellas Park house, indistinguishable from others around except for the Buddhist flag hanging at the front door.
Some might recognize the small Bodhi tree - Buddha is said to have reached enlightenment under one - planted in a pot in the yard.
Inside, an altar with a 2-foot statue of Buddha and offerings of fruit, flowers and vessels of coffee and water dominate what normally would be considered the living room. Candles burn in lotus-shaped holders. Nearby is a spool of saffron-colored blessing thread that Bhikkhuni Sudarshana takes with her on hospital visits and uses to pray with devotees. She leaves them with several strands wrapped around their wrists.
The nun has developed a small but loyal following of mostly Americans.
Friday nights she offers meditation and chanting and often invites noted Buddhist leaders to give talks.
She dreams of having a larger place filled with Sri Lankan nuns. She also wants to earn a doctorate and perhaps return to Sri Lanka to teach.
For now, she works to balance her secular and religious responsibilities.
Her mornings begin at 6 with an hour of chanting and meditation. She rarely watches television, preferring to read newspapers and books. She has a computer.
In her car, the chants of Taiwanese monks are a soothing companion. She's also perched a tiny statue of Buddha on the dashboard and hung prayer beads on the rear view mirror.
Is she at peace with the life she chose so many years ago?
"I'm so happy," she said, smiling. "Now my mom is also happy."
If you go
Fridays at the meditation center
Meditation, chanting and talks, 7 p.m. Fridays, Samadhi Buddhist Meditation Center, 5908 67th Ave. N, Pinellas Park. Call 214-1842.