Buddhists plan retreat in Gainsville
BY AMY REININK, THE GAINESVILLE SUN, May 1, 2007
GAINESVILLE, Florida (USA) -- Several years ago, one of the highest-ranking Tibetan Buddhists in the world envisioned a retreat, monastery and teaching and meditation center close to Gainesville.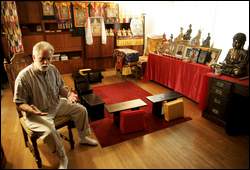 << Gainesville Buddhist Millard Pate discusses plans for a new Buddhist community center located on Lake Santa Fe.
DOUG FINGER/THE GAINESVILLE SUN
After several years of fundraising and a $1.275 million land purchase on Lake Santa Fe, the 17th Karmapa's vision is well on its way to becoming a reality.
Some Gainesville Tibetan Buddhists have plans to build a part-time residence, a monastery and a Tibetan cultural center for His Holiness Ogyen Trinley Dorje, the 17th Karmapa, who some believe to be the second-ranking Buddhist to the Dalai Lama. The site is a 143-acre waterfront lot on Lake Santa Fe, off County Road 1469 near Earleton.
The Alachua County Buddhists who have led fundraising efforts for the project said when the Florida Tibetan Buddhist Center is built within the next several years, it will draw Tibetan Buddhists from throughout the world.
"The center will make Gainesville a large destination on the international Buddhist scene," said Angela Pate of Gainesville's Tibetan Meditation Center. "It will put Gainesville on the map for the Buddhist community, without a doubt."
Gainesville lama David Bole, a member of the board of directors for the Florida Tibetan Buddhist Center, said the Karmapa laid out a vision of a cultural center that's open to the community, rather than a secluded retreat.
The Karmapa has one monastery and part-time home in Woodstock, N.Y. This would be the only other center of that magnitude in North America, Bole said.
"We try to subdue our feelings of pride and attachment, but I am just giddy about the opportunity to draw so many wonderful teachers to our community," said Angela Pate's husband, Millard Pate, also with Gainesville's Tibetan Meditation Center. "This will truly be a gem for North Central Florida."
Gainesville's Tibetan Buddhist community is still working to raise funds to pay off the land purchase, Bole said. After that, the group will start working to raise tens of millions of dollars to build the center's facilities.
"We still have a lot of hard work ahead," Bole said.
There is another obstacle to the Karmapa's vision. His travel has been restricted since he fled Tibet for India several years ago, so Bole said there's no telling when he'll actually be able to travel to the Lake Santa Fe retreat.
The Karmapa currently lives in the Dalai Lama's monastery in Dharamsala, India.
But Bole said he has faith the Karmapa will find a way to Alachua County in the near future.