Chanting a path to Peacefulness
By Ken Keuffel, Journal Now, July 8, 2007
Tibetan Buddhist monks whose monastery is in India will present a multimedia message at festival in Boone
Boone, NC (USA) -- The monks from the Drepung Loseling Monastery like to get around, spreading the message of Tibetan Buddhism through the arts.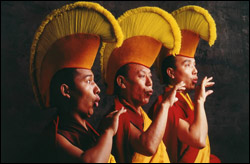 On Friday, they will present "The Mystical Arts of Tibet: Sacred Music, Sacred Dance" in Farthing Auditorium at Appalachian State University, as part of this year's An Appalachian Summer Festival in Boone.
"Mystical Arts" is a tour intended to raise awareness of Buddhist principles so that patrons may lead a better life because of them - and to raise money for the monastery. It will feature nine pieces meant to "generate energies conducive to world healing," a Buddhist ideal that aims to promote brotherhood and harmony and to strengthen connections among all people. Each piece will be explained by an onstage spokesman before it is performed.
The Drepung Loseling Monastery is not in Tibet, its original location, because in 1959 Communist China took over that country, killed many monks and destroyed thousands of monasteries. About 250 displaced Drepung monks made it to India and kept the Drepung Monastery going in the southern state of Karnataku.
Tsepak Rigzin is the resident scholar at the Drepung Loseling Institute in Atlanta, the American arm of the Drepung monastery,which coordinates "Mystical Arts" tours.
"Buddhist teaching and practice can be made accessible to others through various vehicles," Rigzin said.
Those "vehicles" were once largely confined to monasteries but have now become widespread, underscoring Buddhism's universality and what Rigzin called its "capability of being adaptable to any culture."
Indeed, the monks have appeared in the film Seven Years in Tibet, made a couple of CDs and helped celebrate Independence Day in Washington.
The ways one can discover Buddhism can include, in addition to music and dance, formal study and meditation. The touring Loseling monks create and display paintings of colored sand around the United States, showcasing an art form known as "mandala of colored powders."
The performance in Boone will feature traditional Tibetan instruments, including drums of various sizes, two long horns known as dung-chen and two shorter, single-reed horns called gya-ling.
Press materials suggest that this kind of music-making has origins in ancient societies in which "ritual performance of sacred music and dance at auspicious times established communication with the higher powers of good and brings about healing on environmental, social and personal levels.
"In Tibet, whenever a monastery celebrated a spiritual festival, people from surrounding villages and nomadic tribes would assemble for three or four days of sacred music and dance."
The most remarkable musical aspect of the monks' musicianship will be the "multiphonic" chanting. In multiphonic chanting, for which the Drepung monastery is known, a singer produces not one but three notes of a chord, simultaneously.
Huston Smith made a documentary on Buddhism and other faiths called The Mystic's Journey: Requiem for a Faith. He is reported to have called multiphonic chanting "lifting the human spirit to the level of the gods."
Rigzin said much the same thing.
"Chanting awakens people's basic emotional connectivity with the spirit, with their spiritual values," he said. "Even among the audience … it invokes such a wonderful sense of peace and relaxation and leaves a very wonderful feeling of ambience, of peace and harmony."
¦ "The Mystical Arts of Tibet: Sacred Music, Sacred Dance" will be presented at 8 p.m. Friday in Farthing Auditorium at Appalachian State University, as part of An Appalachian Summer Festival. For more information and tickets, go to www.appsummer.org or call 800-841-ARTS. For more information about The Mystical Arts of Tibet, go to www.mysticalartsoftibet.org.