Growing Buddhist congregation in Austin and Williamson County areas
By Huong Le, AMERICAN-STATESMAN STAFF, July 19, 2007
LEANDER, Texas (USA) -- Thich Nu Nhu Anh rises before dawn every day, puts on her brown robes and approaches an eight-foot statue of Buddha illuminated by a neon halo. She recites Buddhist verses and bows 108 times.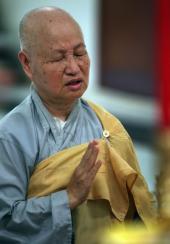 << Buddhist nun Thich Nu Nhu Anh, 71, performs a ritualistic prayer ceremony in the Chua Linh Son Temple. Larry Kolvoord, AMERICAN-STATESMAN
She then places a meal tray and burning incense outside the front door. A thin smoke covers the prayer room at the Buddhist temple outside Leander.
"It's for the wandering souls of those who died without having loved ones pray for them," she said in Vietnamese.
For 11 years, the 71-year-old Vietnamese Buddhist nun has lived inside Chua Linh Son, which was built in 1985 on six acres at 19904 Apple Springs Drive.
Linh Son means "sacred mountain," and the temple is a member of the World Linh Son Buddhist Congregation. The congregation, which is based in France, has about 48 temples in Europe, Asia and North America; there are four in Texas.
Since 1985, the Vietnamese Buddhist congregation in Austin and the Williamson County area has been growing, said Nhieu Ong, secretary general of the Linh Son Buddhist Association of Texas. A second temple was built in 2003 on a two-acre site on Duval Road in Austin.
Most members of the congregation live in the North Austin area, Ong said. They usually use the Austin temple for daily ritual or Vietnamese classes. The Leander temple has been mainly used for holiday celebrations such as the Lunar New Year, when it hosts about 700 people.
Once in awhile, some visit Leander, the nun said, asking the Buddha to dispel sickness from their families or to foretell whether it will be a lucky year to get married or build a house. Some visit the ashes of their loved ones being kept there.
Nhu Anh said she never feels alone. For Buddhist nuns and monks, having their lives revolve around the temple is not a sacrifice. They believe in Buddha's mission: to help people find peace within themselves.
The nuns and monks receive no salary and depend on the generosity of their congregation for food. They can own nothing except a pair of sandals and three robes, cannot marry and wear no adornments or perfumes.
Growing up in Saigon, now known as Ho Chi Minh City, Nhu Anh said, she wanted to become a nun at age 12. Her parents disapproved of her decision, afraid that she was unfit for a nun's lifestyle.
At 30, she shaved her head and devoted her life to Buddhism. It was a way of freeing herself from hatred, greed and ignorance, she said, things that Buddhists believe are the causes of human suffering.
After visiting relatives in the United States, Nhu Anh decided to stay and came to Chua Linh Son in Houston.
In 1996, she was sent to Leander by the head monk in Houston.
The temple grabs attention of outsiders with its array of Buddhist statues that were transported by boat from Vietnam.
Each statue represents a character in the legend of Buddha, whose name means perfect wisdom.
"Buddha said one's appearance is made possibly by nice clothes but inside each of us is the same, our blood is red and our tears are salty," she said.