The vote is in, Buddhist's given a year to worship in their home
by Jason Marks, WAVY.com, Aug 30, 2007
Virginia Beach, VA (USA) -- Buddhist monks go before Virginia Beach City Council for permission to worship in their own home. However the monks' Pungo neighbors say their property is not zoned for religious services.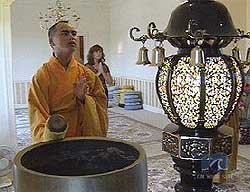 << Virginia Beach neighborhood debates whether to allow a residential home to hold Buddhist activities
Last year the monks moved from Kempsville to Pungo to hold their services. They wanted to build a temple on the land instead of using the home.
"I think that it's equitable, fair and protects what America is about in terms of right to congregate," said city councilman Bob Dyer.
Protecting the rights to pray or protecting the rights of neighbors. That was the issue city council members debated. They went back and forth trying to decide whether a house at the corner of West Neck and Princess Anne Roads in Pungo should not only be used for living, but also as a place for Buddhists to pray.
"There will be no communal singing," said the monks' attorney Kevin Brunick. "There will be no music. There will be very quite mediation that is what they do in their religion."
The Buddhist monks sat quietly in the crowd and watched while their attorney urged council members that there's no harm in letting them worship the way they want. However, folks who live nearby say the Sunday prayer services cause unnecessary traffic.
"First five cars," said neighbor Dan Franken."Then ten. Twenty. Thirty. Forty. Fifty."
Folks say they wanted to move to a rural area. Some place where there isn't a lot of traffic. The idea of having a home dual as a temple could cause development in the future.
"This house was built as a single family residence," added neighbor Amy Lang. "We ask that it remain as such."
However while residents voiced their concerns, members who attend services say not allowing them to pray would be a violation of their rights.
"I feel that a vote against this is a vote against freedom, which is what our nation was built on," said Samantha Neizgoba.
The monks wanted to pray for three hours on Sundays and a few holidays during the year. In the end, the city council decided to grant a one year permit for the monks, but only to give them time to find a new building for worship. The monks could possibly go before the city council at that time and ask for another permit, but council made it clear that if that were to happen they would vote no.