Hermitage celebrates milestone
By John Harbin, Times-News, September 29, 2007
Hendersonville, NC (USA) -- In July 2005, Hendersonville became home to its first Buddhist monastic residence and meditation center, and now the Embracing Simplicity Hermitage has celebrated another milestone by ordaining its first monk Thursday.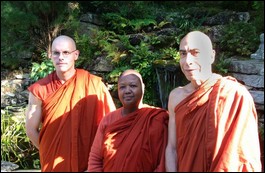 << From left, novice monk Gunaratana, Venerable Pannavati and Venerable Pannadipa stand Friday outside the Embracing Simplicity Hermitage.
John Harbin/ Times-News
"This is the culmination of a dream that began 22 years ago when I was a Christian pastor," Venerable Dr. Pannavati said. "I accepted the inner call to establish a school for spiritual teachers, but little did I know then that it would be to share Buddhism."
Pannavati said the hermitage would not have been possible without the assistance of two friends and supporters who moved to Hendersonville with them: Kaye Meckley and Grace Lertora.
Pannavati was concerned that her Christian congregation fully apprehended grace and compassion, but lacked wisdom and determination. She began an inquiry that catapulted her out of her own faith tradition and ultimately led her to Buddhism, a 2,500-year-old practice.
She described Buddhism as a practice that cuts through ignorance, emphasizes self-accountability for thoughts, words and deeds, and offers a verifiable method for purifying the mind and heart.
Thursday's ordination ceremony accepted Shane Goodman from Austin, Texas, into monastic life.
"His monastic name is Gunaratana," Pannavati said.
Gunaratana said he made the decision to study Buddhism and follow the path to becoming a monk when he lost his job.
"I had recently been laid off from my job in the summer of 2006," he said. "I was working the graveyard shift and had no girlfriend at that time. I had enough money saved at that time to do something like this."
Gunaratana said he decided to visit many Buddhist centers, but started here in North Carolina and didn't need to search any further.
"I was meant to be here," he said.
He said he wants to complete his journey to enlightenment.
Gunaratana and his fellow abbots Pannavati and Pannadipa said Hendersonville has been a welcoming home for their hermitage.
"I haven't been out a lot since coming here in January," Gunaratana said. "From what I have seen the community embraces the hermitage and the Buddhist beliefs."
Gunaratana said before becoming a novice monk, he had always considered himself an atheist.
"I was forced to go to church as a child," he said. "Things people in the church said didn't seem right to me and when I asked questions the answers were evasive."
Gunaratana said all that changed after he read the Tibetan Book of Living and the Dying.
"When I picked up and read that book in1996, it basically hit me right in the face like a sledgehammer," he said. "It made sense to me and cut to the bone with in-your-face truth."
One of the hermitage's abbots, Pannadipa, said he was not very religious until he began studying martial arts and eastern religions.
"I was attracted to Taoism at first," he said. "Taoism is what steered me toward a spiritual realization."
Pannadipa said the hermitage has a responsibility to the people who come there and to the community as well.
The abbots at Embracing Simplicity Hermitage said they share a deep concern not only for the spiritual life of Hendersonville, but the socio-ecomomic well-being of the community.
Both abbots sit on committees of the Interfaith Ministerial Association of Henderson County, United Religions Initiatives Academy for Peace, Housing Opportunities and Programs for Everyone. They also have a community organic farming project on their property, and a college-focused educational planning board.
"While the center does not seek to convert non-Buddhists to Buddhism, its doors are open to everyone, because its message is universal," Pannavati said.
Myanmar strife
On Thursday in Myanmar, truckloads of troops in riot gear raided Buddhist monasteries on the outskirts of Yangon, beating and arresting dozens of monks, witnesses and Western diplomats said.
Daily demonstrations by tens of thousands have grown into the stiffest challenge to the ruling junta in two decades, a crisis that began Aug. 19 with rallies against a fuel price hike then escalated dramatically when monks began joining the protests.
The abbots at Embracing Simplicity Hermitage said they do not have many views to express about the fighting in Yangon.
"From the beginning we had hoped that the government and monastics would be able to work things out peacefully," Pannadipa said. "Obviously that is not the case. The only thing that we desire is that all the parties involved can come back from the brink of confrontation and find a peaceful end."
"We admire what the monks and nuns are doing," Pannavati said. "They are concerned about the citizens' welfare and continue to walk in harmlessness in the process."
If you go:
Embracing Simplicity Hermitage
41 Wisdom Lane
Hendersonville, NC 28739
828-696-1638
Website: http://www.embracingsimplicityhermitage.org/