Thousands Hear Message of Inner Peace and Tolerance
By Salvador Rizzo, The Emory Wheel, Oct 22, 2007
Emory, Georgia (USA) -- Thick, looming fog and the threat of rain couldn't keep thousands of people from attending the Dalai Lama's free public address at Centennial Olympic Park on Monday.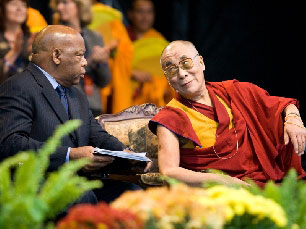 << Brett Weinstein
The Dalai Lama, shown here next to U.S. Rep. John Lewis, addressed thousands at Centennial Olympic Park on Monday.
They crowded the park's wet lawns with blankets — some sitting cross-legged in the lotus position — and they purchased Tibetan memorabilia from robe-clad monks who set up shop at a makeshift bookstore. They traded stories about how far the drive had been to Atlanta, and they looked expectantly at the sky, ironically hoping for no rain during a dangerous statewide drought.
And when the 14th Dalai Lama took the podium, they gave him a standing ovation and their full attention. Hands pressed above his head, the Tibetan spiritual leader bowed his head as the audience cheered and showered him with camera flashes. Then he abruptly motioned for them to sit.
"It's a great pleasure for me to be able to meet with you," he said through a translator. After about a minute, he became more at ease with what he called his "broken English" and delivered the rest of his address on his own.
The Dalai Lama prefaced the speech by saying Atlanta had a special significance for him as the hometown of Martin Luther King Jr., a nonviolent leader with whom he feels a kinship.
"When I hear his name, [I hear] something very deep in my heart," he said.
The Dalai Lama's message addressed the importance of inner peace and self-contentment as a path to lasting world peace.
"According to my own little experience, what I learned, when we have difficulties, most reliable friend is our own inner feelings," he said. "Peaceful society must come from genuine inner peace."
Reducing anger and jealousy on an individual level — what he termed "inner disarmament" — leads to "external disarmament" on a wider level, he said.
"Last century, millions of people killed — not much benefit," he said. "The concept of war is outdated, it's very clear. … This century, 21st century, should be century of dialogue."
He posited that humans, unlike some other species such as turtles, naturally tend toward compassion, and he encouraged the audience to nurture their children and take to heart the lessons gleaned from family life.
"The seed of compassion, from birth, we already have. Very nature, we come from our mother — our entire life depends on others' care," he said, adding that his affection for all people comes not from Buddhism, but from his own mother.
"My mother was very warm-hearted. Never angry," he said. "My compassion, I learned from her."
And this instruction for children, he said, should also take place in classrooms.
"I raise question whether modern education system effective," he said. "Adequate at brain development, not adequate at developing warm-heartedness.
"Please give your children maximum affection, maximum care," he advised the audience, adding, playfully, "Of course, I am monk so I have no responsibility."
Gretchen Greminger from Brunswick, Ga., arrived at the venue four hours before the Dalai Lama took the stage.
"It was perfect," she said after the speech. "Seeing him was number four on my top 20 things to do in life."
Peter Wang, a Taiwan native now living in Atlanta, heard the speech on the grass, sitting over a blue baseball cap next to his young daughter.
"He is a real religious leader," he said. "He teaches us how to live together peacefully and use our wisdom to approach peace amongst the conflict around us today."
Wang hesitated to call himself a Buddhist, until his daughter nudged him and smiled.
University President James W. Wagner, Board of Trustees Chair Ben Johnson and U.S. Rep. John Lewis took turns presenting the Dalai Lama and welcoming him to Atlanta and the sprawling park at the heart of downtown.
"As a man of peace, nonviolence and love, we welcome you," Lewis said. "We welcome your wisdom and your teachings."
The Dalai Lama, speaking to a crowd of about 7,000 people, also stressed the need for universal respect, regardless of individual beliefs.
"As much as you love to God, you must love to fellow human being," he said, adding that even if individuals have "no need to be religious minded, [there] is no point to neglect inner values and compassion."
Later, in response to a previously submitted question about reconciling his Buddhist teachings with Christianity, he described the similarities between many of the world's religions and his affinity for other religious practices.
"I'm Buddhist. I may argue with Jesus Christ, but in practice I fully agree with his [teaching]," he said.
"All religious belief, same practice," he said, describing an example in southern France, where nuns and monks at a Christian monastery shared a remarkably similar daily routine and way of life as Buddhist monks.
"Why? Perhaps same source," he said, slowly waving his hand toward the sky.