Port Arthur monk puts new face on Buddhism
By MARK BABINECK, Houston Chronicle, Oct 25, 2007
Texan believed to be first white American to become senior monk in Vietnamese Buddhism
PORT ARTHUR, Texas (USA) -- Bhante Kassapa is the new, blue-eyed face of Vietnamese Buddhism. The U.S. Air Force veteran, one-time Franciscan monk and former airport communications trainer will this weekend become what is thought to be the first white American to don the robes of a senior monk in the Vietnamese Buddhist tradition.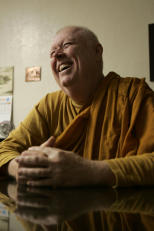 << Theravada Buddhist monk Bhante Kassapa will be ordained into the high order of the Vietnamese community of monks this Sunday at the Buu Mon Buddhist Temple in Port Arthur. - Johnny Hanson: For the Chronicle
And he already has big plans to parlay his uniqueness.
"There's been some discussion about setting up the first (culturally) American Buddhist temple," said Kassapa, who was born Michael Schlosser. "I have my own ideas about it."
Kassapa's ascent within the Vietnamese Theravada lineage is unusual not only for his race and ethnicity, but also for its speed. High ordination, which will be celebrated Sunday, usually takes monks up to five years to achieve, but Kassapa, 55, has gotten there in one.
He doesn't doubt the sangha, or governing body of more than 30 other venerable monks from more than a dozen traditionalist Vietnamese Theravada temples across North America, took his heritage into account in accelerating his promotion.
"I don't know if it's a calculated move on the part of the sangha, but they see me as a bridge between the children and the old people, which is fine," said Kassapa, (pronounced KAH-sa-pa) who has spent the past year at the Buu Mon Buddhist Temple in Port Arthur. "I have a genuine like of people anyway."
The same cultural and linguistic assimilation that previous immigrants underwent in the U.S. is happening with the Vietnamese, he said.
Grandparents still speak the language, their adult children use it more sparingly and the youths often speak English and little or no Vietnamese, Kassapa said.
"Our kids are falling away," said Kassapa, who as "Reverend K" is a favorite of the youth group and draws about 25 people each Wednesday night to his English-language meditation sessions. "They don't like listening to Vietnamese. They want to hear the Dharma (tenets) in English, because that's their language."
The temple, started in 1986 to serve the wave of Vietnamese shrimpers and fishermen who immigrated to far southeast Texas, serves about 250 area families and is an oasis in gritty Port Arthur.
The peaceful garden, damaged this summer by Hurricane Humberto, features huge pomelo citrus, 25 varieties of bamboo and 33 species of lotus, all lovingly tended by the abbot, the Most Venerable Huyen Viet.
In fact, Viet will host the Southeast Texas Bamboo Festival on Saturday followed by the Kathina Celebration — where Kassapa receives high ordination — on Sunday.
"(Viet) put a little bit of Southeast Asia in southeast Texas," said Danny Dubuisson, the temple's community relations man and "monk handler," meaning he often does the driving, advance planning and money changing for the temple's three monks, who by rules aren't supposed to be seen doing many common tasks in public.
The monks' main jobs are to maintain the temple, be living examples of Buddha's teachings and lead various activities, including chants in the ancient Pali language, meditation and Dharma talks.
Michael Schlosser's religious journey began after his Air Force stint in the early 1970s. He came to Houston to study for the priesthood — "I was very Catholic, I guess, and used to go to Mass all the time" — at St. Mary's Seminary in Houston.
He spent eight years studying and working at the Jesuit St. Joseph's Parish and 12 more as a Franciscan monk in the Midwest.
But even then he struggled with his lifelong faith, preferring introspectiveness rather than traditional petitionary prayer directed toward God.
"I practiced meditation, and once a priest asked me what I was doing," said Kassapa. "I said it was my place to empty out. He said, 'We don't do it that way. That's not our style.' So I wanted to find out whose style that was."
Trained in communications at the Air Force — where he bunked with and befriended several South Vietnamese troops also stationed in Colorado — he left the monastery in the late 1980s and spent 16 years training communications workers at Tampa International Airport.
He took a break from spirituality, then gravitated toward Buddhism.
"A Barnes and Noble Buddhist," he said, referring to someone who studies the teachings without converting.
Finally came the day in 1998 when he followed a monk from a Kentucky Fried Chicken to a Tampa temple. He was welcomed and given a tour, and was himself a full-fledged monk 8 1/2 years later, setting the stage for his promotion Sunday.
Some might call his spotting a monk on the road a coincidence, but not a Buddhist, who rejects the notion.
"There are no coincidences," he said.
Unlike many religions, there's no call to recruit or proselytize in Buddhism, although anyone who walks in the door is welcome.
However, that makes building a new temple difficult, especially one in a more American tradition that might not have the base immigrant population that causes them to form organically.
He might get a head start Sunday, though, when eight Anglo-Americans will be inducted into the faith.
The sunny Kassapa is hopeful the sangha will seed his temple vision. He's not sure where an American-style Theravada Buddhist temple might go, but he's got ideas.
"I love Austin," he said. "I have to tell you in Texas it is my favorite city — the elevation, the hills, the little almost-mountains. It was outstanding, and the (cooler) weather was great. When you wear a robe, it gets a little warm."
Kassapa chooses to wear a vaguely burnt orange robe, which he said is more associated with Sri Lanka. He had no idea until this week that the color was shared by the University of Texas at Austin's sports teams.
But then again, it didn't exactly surprise him.
"There are no coincidences," he said.