Zen Center utilized as meditation space, homework resource
By Caroline Page, Daily Texan, Nov 21, 2007
Austin, Texas (USA) -- Though the Austin Zen Center could provide a calm meditative environment close to UT campus for Buddhist students, more students use the facility for class assignment research than participating in Buddhist practices.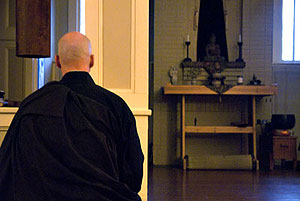 << A member of the Austin Zen Center meditates prior to an evening service. The Austin Zen Center holds evening services every weekday for its members.
Media Credit: Bruno Morlan
"We have an awful lot of people who come and ask us to help with their papers - people who are taking classes and need to write religion and journalism papers, so a lot come that way," said Barbara Seirin Kohn, the center's guiding priest and teacher.
The University campus lacks a nearby Buddhist temple, so the small percentage of Buddhist students on campus are forced to either drive across town for various worship centers or attend the more Westernized Austin Zen Center.
"I guess it's a location issue," said Kokyung Soon, president of the UT Buddhist Association and educational psychology graduate student. "Usually temples take up a lot of space, and I don't think the downtown area would be an ideal location for a temple to be set, unlike a small center like the Austin Zen Center."
Seirin Kohn said although a lot of people are interested in Buddhism, it is pretty demanding to practice at the center because it takes a lot of meditation time.
However, the center encourages young people to become involved because, as Seirin Kohn said, it "would make people's lives easier."
"I think the younger the person starts to do meditative practices the more that will affect the way they are to observe their lives and the way they create their own suffering," she said. "In observing that, you might find that you change a little."
Soon said 10 to 20 students regularly attend the student association's meetings.
"The University could offer classes that encourage students to explore different religious traditions, including Buddhism," he said. "Maybe that is one reason why there are not more people really taking any action to try and learn more about Buddhism - one reason why you don't see a lot more people involved in our organization."
The Austin Zen Center is located at 30th Street and Washington Square in West Campus.