Quest for enlightenment
By Lindsay Key, Roanoke Times, Jan 25, 2008
Practicing Zen Buddhist Michael Love is a minority but not alone in the New River Valley.
Roanoke, Virginia (USA) -- Michael Love admits that his practice of Zen Buddhism isn't something he's likely to mention in casual conversation. The 27-year-old Virginia Tech graduate student isn't shy about his beliefs; it's simply hard to find others who share an interest.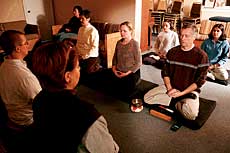 << Zen teachers Charles Birx (right) and his wife, Ellen Birx, (center) lead a group in meditation during a meeting of the New River Zen Community in the bottom floor of the Cooper House on Washington Street in Blacksburg - Photo: Christina O'Connor | The Roanoke Times
"Most people just don't know much about it, and that's understandable because it is a very tiny minority religion in our country," Love said. "And the majority of Buddhists in our country are first-generation Asian immigrants who probably don't mingle with American-born people in their religious circles a whole lot."
Buddhism is a practice in which people follow the teachings of Siddhartha Gautama, written in sutras, in search of a mental state called "enlightenment."
Love said he's not sure what led him to pick up a book on Buddhism in 2000, while an undergraduate student at Virginia Tech. He grew up in a Christian family in Fredericksburg, practicing a faith that he never "felt really strongly connected to."
"I read it, and I started to think, maybe there's something to this," he said.
A few days later, Love attended a lecture in Washington, D.C., by the Dalai Lama, a spiritual leader of Tibetan Buddhism.
"It really struck me because here was this religious figure, a very well-established religious figure, talking about issues that I had never really conceived of as being part of the scope of traditional religion," Love said. "There was this idea of personal responsibility for ethics and morality that didn't derive from the commandments of a deity."
Love was hooked and continued to digest books on the three branches of Buddhism that most Americans embrace today: Zen, Tibetan and Vipassana. Though similar in their following of Gautama's teaching, the practices differ in meeting place, rituals, teaching manner, lengths of sitting periods and meditation styles, according to "The Beginner's Guide to Zen Buddhism" by Jean Smith.
Love searched online for Buddhist communities in Blacksburg and found the New River Zen Community. Eight to 10 of its 25-plus members come together for weekly zazen, or meditation, under the guidance of founders and teachers Charles and Ellen Birx.
Meditation is hard work -- so hard, in fact, that Love nearly gave up after his first trip to the New River Zen Community. On cushioned floor mats in the basement of the Cooper House in Blacksburg, some members twist their legs into a lotus position.
"It didn't look like what I expected, and there was a lot of meditating, and my knees hurt, and it was boring so I didn't come back for a while," Love said.
He tried a Tibetan Buddhist community in Natural Bridge, which focuses more on the study of scripture and teachings than meditation, he said.
But he eventually made his way back to the New River Zen Community, fully committing to its practices in 2005.
"On the final analysis, I was much more suited to the type of Zen we practice at NRZC, which is a very back-to-the-basics approach," Love said. "Although we do still reference the sutras occasionally in Zen, that really takes a back seat to the oral transmission from teacher to student. It's really about firsthand experience, about what's happening to you right now."
Zen meditation, practiced in 25-minute periods at the New River Zen Community meetings, is still a struggle for Love.
"It can be very relaxing at times, but it's also staring down your mind and looking at all of the unpleasant things you've got kicking around in there and confronting them," he said.
According to Ellen Birx, the goal of Zen meditation is to become fully awake and present in the moment, a discipline for achieving enlightenment. At a New River Zen Community meeting in December, she instructed three new students on how to reach this state by meditative breathing.
"When our mind wanders off in thought -- which it will -- we just let go of the thought and let our attention come back to our breathing," Birx explained. "When we're not engaged in our discursive thought, then life can be experienced, something new can be experienced."
After several periods of sitting meditation at that meeting, the group participated in walking meditation. Like a giant caterpillar, the group moved around the basement with eyes focused on the floor ahead.
Charles Birx ended the meditation by knocking together wooden clackers. He began to give a talk about the qualities of Zen, though he was quick to explain that "it's not some way of life that you can imitate."
"It's life itself," he told the group, "spontaneous as laughter and as natural as tears. Zen cannot be prepackaged. It's as raw and as real as rainbow trout in the Colorado River."
So what's the point? Love said that he finds the idea of realizing one's true nature to be very appealing.
"Enlightenment, of course, is a term that's been used a lot and probably misconstrued by a lot of people," he said. "But I guess the concept, as briefly as I can put it, is that human beings, like all living beings, are endowed by their very nature with propensity for wisdom and the ability to discern truth. Through this practice, we're able to actualize that potential."
Love, however, has yet to talk about his quest for enlightenment with his parents, worrying they wouldn't understand.
"My siblings know and their reaction was mainly just like, 'Wow, what's that about?' " he said. "People sometimes have some pretty odd ideas about what it's about."
On the Web: www.newriverzen.org
Buddhism: Philosopy or religion?
It's a question perpetually debated by scholars.
"In the final analysis, it is a religion, but it's hard for me to say exactly why. … There's nobody to pray to in Buddhism, so although I guess there's something you might call prayer, it's not the same thing as a theistic religion," said Michael Love, a Blacksburg Zen Buddhist.
Ellen Birx identified Buddhism as a religion, but said Zen Buddhism might be a religion or simply practiced "for human and spiritual development." In that sense, some people who do Zen consider themselves Buddhist and some have grown up in a Christian tradition or Jewish tradition so they still consider themselves Christian or Jewish. Birx considers herself Christian and Zen Buddhist. "Now, there are people who are fundamentalist Christians or fundamentalist Buddhists, and for them, there would be a conflict. But for people with more open interpretations of either religion there is no conflict."
"We're not comparing Buddhism and Christianity on the level of concepts, intellect and dogmas because those will never come together," Charles Birx said. "But on the level of human experience and spiritual experience there's not a conflict — it's the experience before formulating into either tradition."
Want to go?
* New River Zen Community zazen
* When: 7:15 to 9 p.m. Wednesdays
* Where: Cooper House, 305 Washington St., Blacksburg
* What: Zen Buddhism meditation followed by a talk