Buddhist blessings in South Florida
by Suzette Laboy, The Associated Press, January 27, 2008
HOMESTEAD, Florida (USA) -- Between the alligator-infested Florida Everglades and the craziness of Miami Beach lies a peaceful center surrounded by tomato and fruit farms.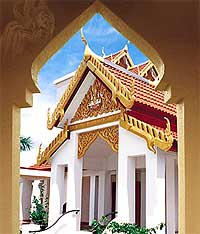 Wat Buddharangsi, a Thai Buddhist temple, is unexpectedly found on five acres in the rural town of Homestead, a short drive from Miami. For several years now, the area has been visited by Buddhist followers seeking a serene environment to pray and meditate.
Inside the temple sits a 5-ton, 23-foot-tall golden Buddha statue, with dozens of smaller statues and vases filled with burning incense and flowers surrounding it.
A secluded, gardenlike area in front of the "Buddha tree" is for meditation and prayer, where worshippers bow three times on a wooden platform to pay respect.
Visitors place a gold leaf on the Buddha as a way for others to be part of the Buddha, explains Khanya Moolsiri, the secretary for the temple. (A gold leaf on the forehead is a prayer for wisdom; on the heart is a prayer for love or good health).
The temple welcomes everyone who is interested in or practices Buddhism, and it serves not just as a religious function but also as a welcome center.
"It's become a community center for the Thai, Asian, Buddhist or for anybody," Moolsiri says.
There is a six-bedroom apartment on the grounds where several monks live, sleeping on hard platforms. There is a screened-in kitchen with picnic-style seating, covered by what appears to be a tin roof.
The temple was designed by Nopporn Poochareon, a Thai native who has worked as a general contractor and now owns two Thai restaurants in Miami.
Poochareon had to go to Thailand to get most of the decorative details for the temple, including the gold roof etchings and carved wooden chairs for inside. He hired workers there, he says, to ensure the temple resembled those in Thailand.
"Thai people like to dress up the building," he says, referring to the bold touches of gold.
A few buildings adjacent to the temple still need some finishing touches.
There are also plans to build a larger meditation hall on the grounds to hold the increasing number of visitors.
"People are curious and want to know about Buddhism," he says. And the temple is a perfect place where the practice of Buddhism can be taught.