Thai community in Miami struggles to complete Buddhist temple
BY TERE FIGUERAS NEGRETE, Miami Herald, Feb. 29, 2008
Miami, FL (USA) -- Not far from tomato fields, surrounded by litchi, longan and avocado groves, an unlikely collection of concrete and clay-tiled buildings presides over a quiet corner of the Redland.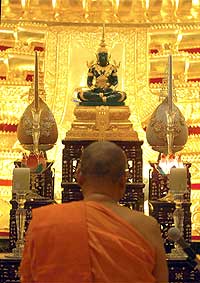 << A monk prays at the Wat Buddharangsi Buddhist Temple, tucked away on farm land in South Miami-Dade.
PETER ANDREW BOSCH/MIAMI HERALD STAFF
There are the small rooms where orange-robed monks sleep on spartan platforms; the classrooms where parents send their children for summer schooling in the hope they will hold on to their language and customs in a new country.
And inside the red-carpeted temple sits the five-ton statue of a golden Buddha.
It has taken South Florida's Thai community more than two decades to build and nurture the Wat Buddharangsi, the first temple of its kind in South Florida.
But the work remains unfinished because of a shortage of funds.
The dozens of cast-aluminum architectural features, painted a burnished gold, are stacked in rows behind the temple because there isn't enough money to have the heavy arches and beams installed.
Plans to rebuild the meeting hall, now little more than a metal roof and a screened-in area, have been put on hold. Also pending: a garden with small huts where adherents can meditate.
''I pray every day to the Buddha, and ask for help,'' said Phramaha Surachett Boonnom, the 70-year-old abbot of Wat Buddharangsi, who came from Thailand in the 1980s to minister to the area's small but growing Thai community.
It's not the first time Boonnom -- who goes by his religious name, Phrasiridhammavedhet -- has asked for divine intervention. Setbacks have included Hurricane Andrew, zoning clashes with the county and opposition from neighbors.
The current structures, opened in 2003, cost roughly $1.5 million. Donations covered $1 million.
''The Thai community is still very young,'' said Khanya Moolsiri, temple secretary and president of the Thai-American Association of South Florida. ``We are mostly first-generation immigrants. We work hard, but it's not easy to raise money.''
Thai immigrants in Miami-Dade and Broward number just under 1,500, according to the 2000 U.S. census, though Moolsiri says the number may be higher because of migration in recent years from Thailand and Thai enclaves such as New York.
The temple welcomes all nationalities and counts a sizable number of Asians from other countries, such as Laos, as well as American-born and Hispanic adherents, Moolsiri said. About 1,500 families list themselves as members of the temple, she said, although attendance can range from just a handful of people at the daily chanting rituals to several hundred for holidays.
''This has become more than a religious center over the years. It's where we can come together as a community,'' said Moolsiri, who grew up in Khao Noi, a small mountain city in Thailand where her father served as mayor. She now works as an insurance agent in Cooper City and says that, like many immigrant groups in South Florida, Thai families often wrestle with how to stay connected to their homeland.
''It takes balance,'' said Moolsiri, whose 20-year-old daughter is a student at the University of Central Florida. ``In Thai culture, the temple is the center of everything. People want to come make offerings for birthdays, for weddings, for funerals.''
As a young boy in Thailand, Boonnom said, he never dreamed he would be a monk -- much less one who presides over a temple not far from a bustling metropolis.
''I didn't know anything about America -- only cowboy movies,'' said Boonnom, who grew up the eldest of eight children in a small village near the River Kwai.
Thai custom mandates that all young men serve as monks when they turn 20, usually for a brief period. Boonnom thought he would study for the minimum three months and then become a farmer like his father. But he fell in love with Buddhist teachings, and a life devoted to study and meditation.
He was preparing to finish his doctorate degree in history at Nova Nalanda University in India, one of the oldest Buddhist institutions in the world, when a high-ranking monk in New York asked him to come to the United States.
''My people were lonely. They had nowhere to turn,'' Boonnom said.
His first reaction when he arrived in the U.S.: ``culture shock.''
At the airport, a female immigration official tried to reach under his robes to check for weapons or contraband -- sending Boonnom into a panic. Monks are revered in Buddhist culture, and in Thailand they rarely shake hands with men, much less get patted down by women.
''I tried to run away,'' said Boonnom, laughing at the memory. The agent eventually let him pass through unfrisked, he said.
He began to perform ceremonies in a small rented house in West Miami-Dade, and then began to scout for a site for a permanent temple. A plot of land in North Miami, close to a stretch of Asian shops and restaurants, was too pricey.
So Boonnom looked south, near Homestead. That was not without challenges.
Homeowners, fearing worshipers would disrupt the area's rural character, twice convinced the county's zoning board block the project.
The would-be congregation then raised enough money to purchase the current five-acre site, at 15200 SW 240th St. A few monks moved there in hopes of getting to know the neighbors.
Just running errands at local supermarkets proved a good opportunity to correct misconceptions. 'People would look at us and say `Oh, you're Hare Krishnas, Hare Krishnas!' '' said Boonnom. ``I would say, no, no, we are Buddhist monks.''
Eventually leaders of other faiths -- like the late Monsignor Bryan Walsh of the Catholic Archdiocese of Miami -- joined the monks' cause and helped persuade county commissioners to overrule the zoning board.
Like the rest of South Miami-Dade, the then-makeshift temple suffered a setback after Hurricane Andrew in 1992. Trouble securing necessary permits and raising funds followed. At the time, the closest Thai temple was in Tampa; there is now a temple in West Palm Beach.
Over the years, the temple has taken pains to address those early concerns from neighbors -- like hiring police officers to handle parking on holidays.
The temple itself, designed by local architect Nopporn Poochareon, was created with regard for the neighbors.
Poochareon traveled to his native Thailand to research the traditional architecture. For the Redland temple, he scaled down the size -- designing a roof of terra-cotta tiers that would accommodate the 23-foot statue of the Buddha without soaring over the treeline.
''We don't really notice them,'' said Phyllis Bridges, whose home faces the north part of the temple's property. ``I've heard their bells ring maybe once a year.''
Carmen Seepersad, who lives across from the temple, said the Buddhists ``are good neighbors, quiet.''
A devout Christian who worships at the nearby Redlands Community Church, Seepersad said she has resisted the urge to cross the street to proselytize. ''I think I know what they'll say,'' she said.
Boonnom, the abbot, said people of all faiths are welcome to worship -- or simply come to learn.
Now an American citizen, Boonnom sees in his rural surroundings echoes of his small town in Thailand.
''I see that I am building this temple not for Thailand but for America,'' said Boonnom. ``It's home sweet home for me now.''