Monks Lead Pro-Tibet Demonstration in Raleigh
WRAL.com, Mar 30, 2008
Raleigh, N.C. (USA) -- Activists in the Triangle on Saturday joined calls around the world urging support for a protest movement in the Chinese province of Tibet.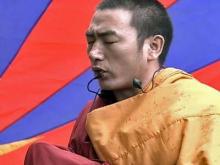 << A Buddhist monk leads prayers during a pro-Tibet demonstration outside the State Capitol Building in Raleigh on Saturday, March 29, 2008.
About 50 people gathered on the lawn outside the State Capitol Building to pray for peace in Tibet, where peaceful demonstrations led by Buddhist monks turned violent about two weeks ago.
Buddhist monks led prayers and chants on the Capitol lawn, and supporters handed out bumper stickers, pins and other materials. Tibetan flags – made illegal by China – fluttered in the breeze, and hand-painted signs called for "freedom" and "peace" in Tibet.
Demonstrators said they sought to raise awareness of what they believe are human-rights violations committed by the Chinese government in Tibet. Protesters said they want a peaceful end to the violence.
Protests began peacefully in Tibet's capital Lhasa on March 10, the anniversary of a failed 1959 uprising against China, but turned deadly on March 14. Beijing says 22 people were killed in Lhasa, while Tibetan exiles put the overall death toll at 140.
Greek police scuffled with pro-Tibet demonstrators Sunday outside an Athens stadium, where runners gave the Olympic torch to Chinese organizers. Beijing will host the Summer Olympic Games in August.
On Saturday, fresh protests broke out at two Buddhist monasteries in Lhasa and outside the Chinese Embassy in Nepal.
The recent outbreak of protests is the most serious challenge to Chinese rule since 1989. Tibet was effectively independent until Chinese communist troops entered it in 1950.