An American monk in Charleston
By Bill Lynch, The Charleston Gazette, April 4, 2008
Buddhist went from hippie life to spiritual awakening
Charleston, West Virginia (USA) -- Over the telephone, Buddhist monk Bhante Yogavacara Rahula sounds a little like a stranger in a strange land. There's a faint accent that suggests he learned English later in life and, of course, there's his name.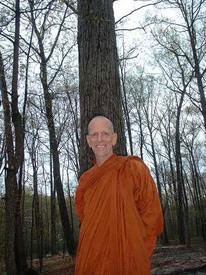 << Douglas Imbrogno
Bhante Rahula's way of life at the Forest Monastery in Hampshire County has some similarities to the way he lived in the caves of Sri Lanka. He still lives very simply in a hut, but there are fewer poisonous snakes and dangerous animals stalking the woods of West Virginia.
Bhante means "venerable sir," and is the polite way to address a Theravedan Buddhist monk. Rahula is a common name in India and Nepal and refers to the historical Buddha's only son. He is not, however, a stranger in a strange land.
Bhante Rahula was born Scott Joseph Duprez in 1948. He grew up in California, attending a Methodist church with his parents. His first Buddha statue decorated the top of an old television set. He used to hang a hat on it.
He went to junior college, smoked marijuana, then joined the military. After his tour in Vietnam, he wore his hair long, grew a beard, chased girls and did just about any drug he could get his hands on.
"Sex, drugs and rock 'n' roll," said the monk, who visits Charleston today through Sunday to give several public presentations.
Bhante Rahula's story of how he went from typical hippie to clear-headed Buddhist monk is chronicled in his book, "One Night's Shelter: Autobiography of an American Monk." Two versions of the book exist. There's the "green" version, which catalogs his extensive drug use and sexual escapades. It details his time as a drug dealer, mentions his time in the Army stockade for being AWOL, as well as his arrest and detainment in an Afghan prison after trying to smuggle drugs into India.
"That's the toned-down version," said the 59 year-old monk, laughing. "The other version is much juicier. More sex, more drugs, more rock 'n' roll."
Bhante Rahula doesn't celebrate who he was in the 1960s, but he's not afraid of it. He's at peace with it. If not for the constant craving for chemically induced experiences, he might not have found his way to the dharma, the teachings of the Buddha. Wishing now to have been different then is pointless.
"It's all just grist for the mill," he said. "Taking all of those drugs. I didn't know any alternative."
He acknowledges that he got off pretty easy. He made it out alive.
Becoming a Buddhist, then a monk started with his craving. He was always on the lookout for the next high, the next profound experience. While he was traveling in the mountains of Asia, he heard about a meditation course in Katmandu. He went looking for another experience, but stayed for the enlightenment.
"That was the turnaround for me," he said. "I had this very deep insight, and I just wanted to pursue meditation and the dharma."
It didn't happen overnight, but in 1975, he was ordained as a monk in Sri Lanka. He lived in caves and huts, avoiding wild animals and poisonous snakes. He meditated to train his mind to shed fears and to focus his attention.
In 1985, Bhante Rahula heard about another monk's plans to build a Therevadan Buddhist monastery in the hills of West Virginia. He saw it as an opportunity to come back to the United States and bring some of what he'd learned.
He wrote to the monk, an internationally known meditation teacher named Bhante Gunaratana, who told him he should come. Rahula began to help build the monastery in 1987 on a plot of land in the Hampshire County backwoods.
Life at the Bhavana Society Forest Monastery near Wardensville is not entirely different from the simple life he lived in Sri Lanka. He continues to live in a small hut - called a 'kuti' - without electricity or running water (the main hall does have both).
He meditates, studies the Buddhist Sutras and books related to Buddhist thought and helps lead meditation retreats to people who come from around the world to Bhavana.
We study and read some of the contemporary readings," Bhante Rahula said. "How science is relating to dharma teachings and Buddhism. We could read other things, I suppose, but I do not. We don't want to fill our minds with anything not on the dharma."
Occasionally, he does read a little about hiking in the Himalayas. He's been to Mount Everest several times with friends and gotten as far as the Everest base camp. "I do it mainly for the exercise, but also to push the envelope of discomfort."
He hikes some in the United States and usually takes a camping trip to Dolly Sods about once a year.
Bhante Rahula isn't the only American-born Buddhist monk. He wasn't even the first. Although he stops short of calling the vocation rare in this country, he agrees there aren't many.
"There are perhaps several hundred," he said. "Some stay with it, as I have. Others dabble with it for a few years."
Living in the United States again, Bhante Rahula is better able to keep in contact with his family and a few old friends. He visits his mother in California, where he also sees his brother and sister. His sister is a fundamentalist Christian, he says, and visits with her used to be tense.
"She's mellowed out, and I think she accepts what I am and what I do."
Living at the monastery affords him more opportunities to travel. Groups from different parts of the country and around the world sometimes invite him to visit with them and lead retreats.
The Meditation Circle of Charleston has been host for Bhante Rahula's visits in Charleston a few times, including a visit this weekend at the Unitarian Universalist Fellowship Building. The visit will include talks about meditation, Buddhism and a slideshow of his spiritual trekking in the Himalayans.
He believes meditation is helpful for anyone, regardless of their particular spiritual path. Meditation helps people draw on resources they aren't even aware they have.
"It's a way to develop the mind," he said. "It can help you develop acceptance, patience, loving kindness toward others and deal with life on a more even keel."
If you go
All events with Bhante Rahula are at the Unitarian Universalist Fellowship Building, 520 Kanawha Blvd. W. E-mail amath...@wvhca.org to reserve a spot for Saturday. For more on his background, visit www.hundredmountain.com/meditationcircle:
TODAY: 5:30 to 8 p.m.: The monk will narrate a slideshow on his years of trekking in the Himalayan mountains and afterward lead a meditation.
SATURDAY: From 8:30 to 11 a.m., he'll lead a session in basic sitting meditation, with a talk and questions. Bring cushions or chairs available. From 1 to 5 p.m., he will lead longer sitting meditation of 30 minutes, with standing and walking meditation and basic yoga instruction.
SUNDAY: He will be featured guest at the regular Sunday morning service of the Unitarian Universalist fellowship.