Kileen Buddhist temple celebrates anniversary, Thai New Year
by Victor O'Brien, Killeen Daily Herald, April 27, 2008
Kileen, Texas (USA) -- Wat Pah Sammarkki Buddhist Temple in Killeen broke from the normal tradition of peace to celebrate two special occasions Saturday.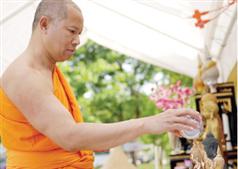 << Herald/JOHN A. BOWERSMITH
Sunthorn Janthawong pours a blessing of water on a statue at the Wat Pah Samarkki Buddhist Temple Saturday evening. Janthawong traveled from Albuquerque, N.M., to celebrate the temple's 14th anniversary and the Thai New Year.
On the eve of the Thai new year, temple members and local residents joined to celebrate the temple's 14th anniversary in Killeen with a Songkran (New Year's) Festival on Saturday. The Thai new year typically falls in the middle of April and is determined by the lunar calendar.
The festival included Thai dancing, food, music and live kickboxing.
About 35 monks from as far away as New York and Washington attended the festival and guided festival-goers in chanting.
Sgt. Boone Phaxai of Fort Hood usually worships at a temple in Dallas, but may change that since he discovered Wat Pah a few weeks ago. He said Buddhist offerings in the U.S. Army tend more toward Japanese Buddhism. Phaxai was impressed by Wat Pah Sammarkki because it better represented his culture by using the Thai language and through customs.
"This is my native tongue, so I can understand it better," Phaxai said.
Suraprom Puangmali said the temple was established in 1994 by monks from a temple in Houston. There are 12 Buddhist temples in Texas, said Raymond Nachampasak. Wat Pah Sammarkki serves about 200 from nearby areas.
Puangmali said the temple, which is a few miles from Florence along State Highway 195, serves not just Killeen, but surrounding areas including Fort Hood, Copperas Cove, Harker Heights and Waco.
The temple's name, Wat Pah, denotes its importance and goal, Puangmali said. Wat Pah means "jungle forest" and signifies the temple's location removed from city life, which is rare among the temples in Texas, but mirrors temples in Thailand. "Sammarkki" means unity, which the temple seeks to inspire through peace.
When people worship or visit Wat Pah Sammarkki, peace is what they find.
The temple reminds Lamdaun Buchanan of living in Thailand.
"It makes me feel like I'm home in Thailand again because of old customs and festivals," Buchanan said. "It's peaceful and serene; it brings happiness."
Chatree, a monk from Phoenix, Ariz., drove 16 hours to enjoy the song, dance and chanting, but even more so for the feeling of togetherness.
Ilily Rivera visits the temple most Fridays with her mother – each with different ways of accomplishing the same purpose.
"It's serene," Rivera said, adding that her mother "usually comes out here to chant and I come out here for peace of mind."
Rivera describes herself as a Buddhist Baptist since she was raised in both cultures. Rivera said Wat Pah Sammarkki is ideal because it opens its door to non-Buddhists, as well.
"When I say nondenominational, it's nondenominational," Rivera said. "No one judges you here."
Glenn and Sheila Trinidad, of Killeen, not only agree the temple is relaxing, but had the same word to describe the festival: "spicy."
"If you like spicy, this is it," said Glenn Trinidad describing the array of foods from egg rolls to curry to chicken satay.
"We come here to eat," Trinidad Rangel of Lampasas said. "I ate two plates."