Couple weds at Buddhist temple
By CHUCK HUSTMYRE, Special to The Advocate, Jan 16, 2005
Ceremony one more step in groom's spiritual path
Baton Rouge, Louisiana (USA) -- It was during an introduction to religious studies course at LSU 10 years ago, that Jason Graham says he had an epiphany. He and his classmates were studying Buddhism. "I realized I had always been a Buddhist," Graham said. "I just didn't know it."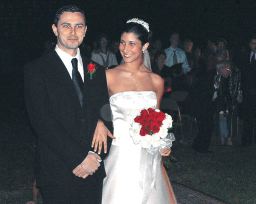 << Advocate photo by CHUCK HUSTMYRE
Jason Graham and Annie Gassen smile Dec. 4 following their wedding vows at a Buddhist ceremony at Tam Bao Temple in Baton Rouge.
The study of religion so intrigued Graham that he decided to expand his curriculum and take it on as a second major. He went on to earn bachelor's degrees in history and religious studies.
The Buddhist philosophy of living in the moment rather than worrying about what has happened in the past or what might happen in the future was an idea Graham said he already practiced in his life.
If you worry too much about the past or the future, Graham said, "One day you realize you spent your whole life waiting instead of living."
Graham continued to study Buddhism and became a practitioner.
"Like a lot of Westerners, I had a complete misunderstanding of what it was all about," he said.
Graham, 35, was born and raised in Louisiana and looks as American as apple pie. Although not from a particularly devout family, Graham said he was raised Lutheran.
Graham said he assumed that Buddhists worshipped Buddha and considered him divine. After studying Buddhism he learned that was not the case. If anything in Buddhism is worshipped, Graham said, it's the teachings of the Buddha, not the man.
Despite his Christian upbringing, Graham said family and friends were not surprised to hear that he and his fiancée, Annie Gassen, were getting married at the Tam Bao Buddhist Temple on Monterrey
tried to do things his own way.
Gassen, 20, is finishing her teaching certification at LSU. She plans to teach elementary special education.
When the question of where the couple was going to be married came up, Gassen said she was comfortable with the idea of having the ceremony at the temple.
"Jason's belief in Buddhism is very important to him," she said. "He has a very strong belief system."
Although she was raised in a Roman Catholic family, Gassen said her spiritual views are still evolving. Her family was very accepting of celebrating her wedding at a Buddhist temple, she said.
Gassen said she plans to continue studying Buddhism. "I find the temple to be a very beautiful and relaxing place."
Thich Dao Quang, the resident monk at the Tam Bao Temple, said he first heard from Graham about a month before the couple planned to marry. "He just picked up the phone and called me," Quang said.
Graham was looking for an English-speaking monk to perform the wedding ceremony, Quang said.
"I believe Jason and Annie feel very welcome when they come here," Quang said.
On a chilly Dec. 4, about 100 people, mostly friends and family, mostly American, mostly non-Buddhist, gathered on the lawn of the temple to share in the cross-cultural celebration uniting the couple.
In front of the couple, an altar with flowers and fresh fruit stood before a golden statue of the Buddha. At their feet lay pillows for kneeling. The scent of sandalwood hung in the air.
The ceremony began as Quang, followed by a visiting monk from Houston and a visiting nun from Boston, made their way to the altar. All three were clad in flowing saffron robes and had their hair shaved almost to the scalp. As the monks and the nun knelt, a drum began to beat as Quang led everyone in a chant honoring the Buddha.
During the ceremony, the couple paid respects to their parents and to each other through words and bows. Then Quang cautioned them, "Happiness does not fall from the heavens or come from the Earth. You are the only ones who hold the key to your happiness."
The keys to happiness, Quang said, include love, understanding, compassion, tolerance and forgiveness.
The couple exchanged the five Buddhist wedding vows in which they promised to maintain themselves in a lifestyle worthy of their own moral traditions and their parents' highest expectations. They promised to hold each other in high esteem and to respect each other's families as their own. They also promised to raise their children with utmost care so that they can grow to become valuable members of society.
Kneeling before each other, Graham and Gassen then exchanged wedding rings.
Just after the ceremony ended, Jason's mother, Tina Howze, of Bossier City, stood and, in a voice cracking with emotion, said in Vietnamese, "My family would like to thank the temple."
The Grahams said they plan to stay in Baton Rouge and teach.