Buddhist ceremony honors all creatures great and small
by Mandy Locke, The News & Observer, June 22, 2008
Cary, North Carolina (USA) -- Hundreds of bait-shop crickets and earthworms escaped death by fishhook Saturday.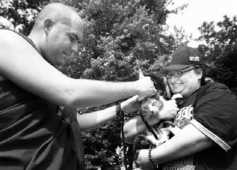 << Mooncalf the cat, held by Liz Rourke, receives a blessing from Lobsang Tonden, a Buddhist monk, at Ritter Park in Cary. The event celebrated all life -- even rats, crickets and worms. Staff Photo by Corey Lowenstein
At an animal blessing and release ceremony in Cary, well-meaning Triangle Buddhists rescued them from a fate as bait for bass or bream.
One by one, crickets hopped out of a cage and into the cover of pine needles at Cary's Ritter Park. The earthworms squirmed in their styrofoam containers a bit longer, bound later in the day for the moist flower beds of those who came to set them free.
"I know it might look a little strange because it's a cricket, but we're saving lives," said Stephanie Smith, a Buddhist from the Kadampa Center in Raleigh and an organizer of the animal release. "But these aren't crickets from my basement that I'd never think to kill."
It was an unusual sight for a Saturday morning in Cary. Incense burned in the muggy summer air, and three robed monks chanted along with a tape of their Tibetan brethren. Just behind the gathering, two T-ball teams squared off for a game. As monks bestowed blessings, joggers rushed past in fancy sneakers and running pants.
Participants in the event said that for Buddhists, all life is sacred. All living things -- even squirmy earthworms packed in bait containers -- possess consciousness, Smith said.
So Smith and about two dozen others from the Kadampa Center wanted to do their part by helping ensure as natural and peaceful a death as the creatures could be guaranteed on the Triangle's dry land.
"Taking an innocent life is negative, almost like a crime," said Geshe Gelek Chodha, a Tibetan monk who teaches at the center.
The animal release ceremony also drew a dozen or so four-legged creatures -- cats, rats, beagles and shepherds -- to receive a blessing from Chodha. The pet owners marched their creatures around a picnic table as monks chanted.
The monks' blessings were intended to unleash more positive energy around the creatures. Geshe Gelek Chodha said that while the creatures may not understand that good wishes are being bestowed on them, they feel the result.
Sharon Clark, a Buddhist from Garner, said she saw something new in her Sadie, a beagle/Corkie mix.
"Look at those eyes; you can definitely see a difference," she said.
Clark wished she had brought her cats, too, but didn't think she could manage the whole band of creatures.
As it turned out, Saturday's emancipation of crickets and worms came cheaply. Smith had gone to a bait shop near Jordan Lake to scoop up 100 crickets.
A mere $4 seemed a small price to pay for some good energy.