Buddhist temple thrives in Pensacola
by Troy Moon, Pensacola News Journal, June 28, 2008
Pensacola, FL (USA) -- The cars zip up and down Nine Mile Road, stopping at youth baseball fields, fast-food restaurants, big-box stores.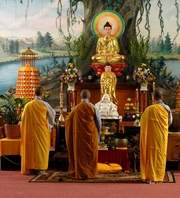 It's suburban America, so much like Anytown, USA. But turn down a little side street east of U.S. 29 and you'll find a hidden gem.
Dieu De Temple on Nims Road is not only a spiritual center for nearly 100 Buddhist worshippers, it's a reminder of another culture and of the past. It links to roots long left behind in South Vietnam as the country was overrun by communist forces in the 1970s.
"We left everything, and we lost everything,'' said MyHanh Smiley, 70, a temple member since 1997 who came to the U.S. with her four children two years before.
"We had only our spiritual life to take along with us. I grew up in a family of devout Buddhists, so to be able to practice our religion here means a lot. It has helped us survive the hardships we have had to go through.''
Winston Fontaine, a Presbyterian, has lived next door to the temple since its inception in 1993 and has donated money and two acres of adjoining land to the temple.
"I have nothing but admiration for them,'' he said. "They came here with nothing but the clothes on their back, and it's remarkable what they've done.''
What they've done is preserve their Eastern spiritual belief in a Christian-dominated Western world. And while they've embraced the land they've come to call home, they have not forgotten the defining moments that have helped shape their faith and their culture.
The members of Dieu De Temple remember the hardships. They honor the martyrs who gave their lives for their beliefs. And they vow not to forget.
Which is why the three non-English speaking Vietnamese nuns who head the temple recently hosted a commemoration dinner to honor one of Vietnam's most esteemed Buddhist figures.
The nun and their guests gathered to honor Buddhist monk Thick Quang Duc, who burned himself at a busy Saigon intersection on June 11, 1963, to protest the persecution of Buddhists by the South Vietnamese government.
Pictures of the monk's death shocked the world, and President John F. Kennedy said shortly afterward that "no news picture in history has generated so much emotion around the world as that one."
Throughout the rest of Pensacola, the anniversary of Thich Quang Duc's death went unnoticed.
But not at Dieu De Temple, where it's the members' work to keep Buddhism as a vital part of everyday life, even here in Pensacola, the buckle of the Bible Belt.