From Jew to lama
By Carol Eisenberg, Newsday, October 29 2004
Florida, USA -- A mensch-in-the-making, his great aunt had pronounced on the day of his bar mitzvah. It wasn't just his flawless Hebrew. Or that he looked so all-American in his midnight blue suit from Barneys with his sandy-blond curls combed flat beneath his yarmulke.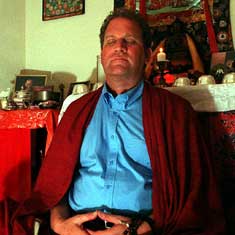 What had mesmerized his aunt was Jeffrey Miller's magnetism as he greeted all the relatives at the Temple Gates of Zion Synagogue in Valley Stream that morning in January 1964.
"`Such a wonderful boy. He spoke to me for 25 minutes. Those blue eyes just sparkle at you when he's talking,'" his mother, Joyce Miller, recalls his aunt saying. God willing, she added, he'd grow up to be a doctor or a lawyer and bring his parents naches -- Yiddish for joy.
The Brooklyn- born Miller was bright and charismatic. But he would soon transform from bar mitzvah boy to Buddhist lama -- from Jeffrey Miller, the kid who couldn't sit still in Hebrew school, to Surya Das, the best-selling author, teacher and translator of Tibetan Buddhism in the West.
Das has poured his energy into his work as "a dharma farmer," as he likes to put it, "planting seeds of enlightenment." He has written six books, including the best-selling Awakening the Buddha Within, founded the Cambridge, Mass.-based Dzogchen Foundation to transmit Buddhist teachings to the West; opened a retreat center outside Austin, Texas; and maintains a heavy schedule of lectures and retreats around the world.
This weekend, he will appear in South Florida at a conference, called "Inspiration: Tap into the Source," presented by the Omega Institute, rubbing elbows with the likes of Maya Angelou, Brian Weiss and Wayne Dyer.
Friends say the tragedy of the Kent State University shootings galvanized him. After graduating in Valley Stream Central's Class of 1968, a straight-A student who played varsity sports, he was shaken when his best friend's girlfriend, Allison Krause, was shot to death at the May 1970 anti-war protest at Kent State University in Ohio. He learned that another student killed that day was a boy named Jeffrey Miller from Long Island.
"That was a lightning bolt that propelled Jeff in another direction," said college roommate and lifelong friend David Schneider, now a psychologist in California. "He was thirsting for something, and the urgency of that reached a new level with Allison's death."
The 20-year-old took off for Europe with a backpack and a poetry journal. He found his way to a monastery near Bodh Gaya, India, where the Buddha had become enlightened under a fig tree 2,500 years earlier.
He learned Tibetan, studied with some of the greatest living Buddhist teachers, including the Dalai Lama, and received the name Surya Das, meaning "servant of the sun."
"People often ask, `Are you enlightened?' And I say, `enlightened enough for now,'" said Das, now 53, taking a break from a meditation retreat he was giving in a former Capuchin monastery on the Hudson River. "I found what I was looking for. I'm grateful. I'm surprised."
He often trades views with Harvard law professor Alan Dershowitz, a friend and neighbor on Martha's Vineyard. Dershowitz admits that "a little part of me -- and the part I'm not proud of" wishes Das were a rabbi instead of a lama.
"But it's only a small part," he said, adding, "I have, on repeated occasions, given him sources in Judaism which I think are compatible with his views. I'll tell him after reading one of his books, `You know, the Baal Shem Tov [founder of Hasidic Judaism] said something very much like that.'"
Das sees no contradiction between his Jewish background and his Buddhist practice. "I'm definitely Jewish on my parents' side, as I always say to be funny," he said. "But not to take away from it. My mother's Jewish. I was bar mitzvahed as a young Jewish man. That is still a part of who I am."
He talks about the affinities between Judaism and Buddhism -- both emphasize questioning, intellectual skepticism, debate and dialogue, and have minimal amounts of dogma. And both share an ironic sense of humor and a rich oral tradition.
Still, it took a long time for his Jewish parents to see it that way.
"To be perfectly honest," his mother said, "if I could say, `my son the rabbi,' I'd be 100 percent happy. Now, I could say I'm 99.5 percent happy. But I'm not complaining. He's happy -- that's the most important thing. He knows he's Jewish."