Buddhist relics bring enlightenment to the world
The Associated Press, December 10, 2008
ATLANTA, Georgia (USA) -- The room is humming with chants as visitors circle around a large, glowing table.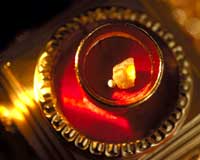 Some are openly weeping. Others are breathing deeply as they stare fixedly at the pebblelike objects on display. Some are in a trancelike state as they walk around and around the table, a giant golden Buddha statue towering over their heads.
The white noise of the chants is broken only periodically by the sound of a bell ringing or the whirring of a prayer wheel.
The exhibit is a rare collection of Buddhist relics found among the ashes of cremated spiritual masters around the globe over the last 2,500 years, including Shakyamuni, the historic Buddha. The tiny crystal and pearllike capsules are believed to contain the enlightened spirits of the monks who spent their lives praying and meditating.
"It's like we've entered into a nuclear power plant of positive energy," Carmen Straight, a Buddhist who is traveling with the relics as part of the Maitreya Project, told 50 or so people who gathered recently at a Tibetan Buddhist center in Atlanta to see the precious cargo.
These tiny artifacts are touring the world thanks to Maitreya, an India-based nonprofit trying to raise enough donations to build a $250 million shrine where the relics can have a permanent home in northern India. The shrine will include a 500-foot bronze Buddha statue, public temples, exhibition space, a school and a public hospital.
The tour will visit Sedona, Ariz., Dec. 12-14, before heading to Mexico. For now, the relics are scheduled to return to the United States in Soquel, Calif., in May, but that can change as more cities sign on to host the exhibit.
Two other collections of the same relics are traveling in Europe and Asia. The relics began touring the globe in 2001 from the personal collection of Lama Zopa Rinpoche, Maitreya's spiritual director.
The origin of the relics is something of a mystery. Buddhists believe the crystals simply appear, without explanation, in the ashes of cremated spiritual masters.
The exhibit, which is free to all visitors, includes relics from Chinese, Indian, Korean and Tibetan traditions. Many of the relics were recovered from Tibetan shrines destroyed during the Chinese invasion in the 1950s.
During the opening ceremony in each city, Buddhist monks bless visitors by placing a metal tube containing relics from the historical Buddha on their heads and saying a prayer.
"Two minutes in that room, and I felt immediately this sense of kindness, the opposite of my grumpiness," said Sandra Smith, who drove from New Market, Tenn., to Atlanta to see the relics. "There was an instant letting go of my way."
On the Net:
Maitreya Heart Shrine Relic Tour: http://www.maitreyaproject.org/
Drepung Loseling Monastery: http://www.drepung.org/