Buddhist temple opens with festival
By: LISA MARCHESONI, The Murfreeboro Post, November 29, 2009
Buddhist temple opens with festival | Wat Amphawan Temple
Murfreesboro, TN (USA) -- Kay Watson reverently joined her daughter, Amy, on her knees in prayer as they celebrated the popular Thailand festival of Loy Krathong Day last Saturday at a new temple.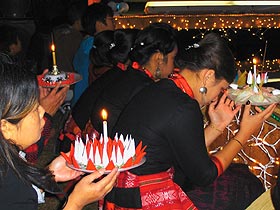 << Kay Watson, left, and her daughter, Amy, pray before placing Krathongs into the water for good luck.
"Loy" means to float and "Krathong" is a water vessel decorated with candles, coins and brightly colored flowers. During the festival, people make wishes and launch the Krathongs on water. It is believed the Krathongs carry away sins and bad luck along with good wishes for a new year.
"I wished everyone to have a healthy and happy life," Watson said.
She joined about 75 other people at new Wat Amphawan of America Buddhist temple Saturday at 4880 Barfield-Crescent Road.
Thailand native Jack Butchareon, who owns Thai Corner with Floors 'N More on Robert Rose Boulevard, said a retired Thai medical doctor donated funds to purchase the house and acreage for a Buddhist temple, the second one in Rutherford County. The Laotian Wat Buddharam temple is located on Old Nashville Highway.
"This place is open to anybody," Butchareon said, adding, "That is the way of the Buddhist belief."
Americans, Indians, Laotians and Thais worship at the temples. Christians, Muslims and Jews are invited to meditate at the temple.
"A lot of Americans come here to meditate and do yoga," he noted.
Buddhist beliefs
Abbot Preeda Momuntkon leads the two monks who live at the temple. As part of their tradition, monks do not touch women even to shake hands. They will bow.
"Their belief is for all people seeking for good things with no harm to others," Butchareon explained as he translated for Momuntkon.
"They have five basic beliefs:
• Refraining from killing of humans or animals or taking advantage of others.
• Keeping from stealing.
• Remaining faithful to a spouse in marriage.
• Telling the truth and
• Avoiding drugs, alcohol and cigarettes."
The beliefs originate from India native Buddha, who developed his beliefs in 2552 B.C.
"Buddha taught three things: do not do a bad thing at all, do good, and make your heart clear and clean," Momuntkon said.
Butchareon said following the theme, the temple allows visitors to meditate in a temporary meditation area.
"This one stresses on meditation with happiness inside," Butchareon said. "No stress. If you have a lot of stress, come over here."
The festival
Women served hot beef or pork noodle soup, egg rolls and fried bananas during the festival.
Atop the festival stage were posted five American flags. The back of the stage depicted the colorful skyline of the three capitals of Thailand situated beside a river.
Butchareon said the country's first capital 2,000 years ago was named Sukothai. Ayudhaya became the second capital in the mid-1800s. Bangkok became the present capital 200 years ago.
"Every capital in Thailand has to be close to the river" because of trading with England and other countries by water. Rivers and other bodies of water are crucial to Thailand's commerce.
"If I had a house next to the river, I would be happy," Butchareon explained, as he pointed to his chest. "It's in your heart."
As part of the festival, teens Kaitlyn Thavy, Amy Watson and Lina Thirakul gracefully danced on the stage. A man sang primarily American songs, drawing applause when he sang Elvis Presley songs.
Just before darkness fell and the crescent moon rose, the monks took the stage and prayed aloud. The people dropped to their knees and prayed aloud in response to the monks.
Afterwards, people ranging from senior citizens to small children helped by their parents slipped the Krathongs into a pool of water in front of the stage. They made wishes in a time to be joyful as the sufferings from the previous year float away. The flames reflected in the water as they floated away.
Butchareon said many people recalled their parents and grandparents who have died. They also think about doing something good.
"The spirit will get you to the heavens," Butchareon explained.
Alonzo Silavong of Brickle Court bowed his head and carefully slid the Krathong into the pool of water.
"One, you are offering for Buddha," Silavong said. "Two, you are wishing all bad luck and (bad) karma to float down the river. You wish luck for the rest of the year."