In Fort Worth, Buddhists are raising a temple
Star Telegram, Mar 19, 2010
FORT WORTH, TX (USA) -- An impressive Buddhist temple is rising on the city's east side. To the Rev. Buu Duc, the Vietnamese-born abbot of the Huong Dao Temple and Monastery, it's an improbable dream come true.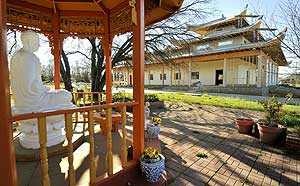 << STAR-TELEGRAM/MAX FAULKNER
A statue of the Buddha inside a gazebo faces a Buddhist temple under construction on East Rosedale Street.
"My only goal when I came here 10 years ago was to share my Buddhist knowledge," said Duc, 53. "I didn't want to build a big temple. But the committee said, 'Go now.'"
The columned temple, which will cost about $900,000, stands out in a low-income area in the 4700 block of East Rosedale Street. It is being built with individual donations and funds raised by a relatively small Buddhist congregation, just over 100 regular members.
Major features of the temple are three pagodalike tiers with curving eaves, which will ultimately feature dragons, important symbols in the Buddhist tradition. A 9-foot Buddha made of Burmese marble was lifted into the edifice by crane before the roof went on. It is now draped and will be unveiled when the temple is open. Target date is sometime this year.
The grounds of the Fort Worth temple include a gazebo with a smaller Buddha and will soon have a waterfall.
Buddhism, with about 350 million adherents worldwide, grew from teachings of Siddhartha Gautama, called the Buddha, who lived about 26 centuries ago in what is now Nepal and northeast India. He taught that happiness comes from stemming worldly cravings and following the Noble Eight-Fold Path -- right view, right intention, right speech, right action, right livelihood, right effort, right mindfulness and right concentration. The eight spokes of the path are painted on the driveway to the temple.
Some worried about the site when it was bought for $47,000 in 1996.
"They saw all the beer cans on the property and said, 'We're not going to worship there,'" Duc said.
But the people came.
A worship service
One of four homes on the site was enlarged for use as a small temple where worship is held. The three other homes are used for Sunday schools and residences for monks and nuns.
On a recent Sunday, worshippers, including one in a Dallas Cowboys jacket, knelt on cushions as Duc bowed in front of a Buddha figure and led rhythmic chants and prayers.
Each time a chime sounded, the worshippers, hands clasped, bent forward in prayerful postures.
About 50 adults were at prayer while children played outside and youths were in rooms studying Buddhist teachings. Hundreds show up at certain Buddhist festivals, Duc said. Most of the congregation is Vietnamese, but people of other nationalities, including Americans, are members.
Luke Anthony of Fort Worth said his life has become less stressful through his attending meditation retreats and practicing Buddhist teachings for 12 years.
He's thrilled about the new temple, where he is a member and formerly tended the grounds.
Anthony recently took a key step in Buddhism -- committing to its five ethical precepts. They are: refraining from taking life, refraining from taking anything not freely given (stealing), refraining from sexual misconduct, refraining from intoxicants that lead to loss of mindfulness and refraining from lying and deceiving.
"The consequences of those actions are phenomenal," Anthony said. "I still have lots of problems. But I'm working on them."
Duc says there is a growing interest in Buddhism in busy American society.
"The goal of Buddhist discipline is inner peace," he said. He began studying to be a monk at age 15 in Saigon, Vietnam. He moved here in 1972.
He was invited to take over the congregation by the leader of the Lien Hoax Buddhist Temple and Monastery in Irving, which has about 2,000 members and has given support to the Fort Worth temple.
Read more: http://www.star-telegram.com/2010/03/19/2053576/in-fort-worth-buddhists-are-raising.html#ixzz0iuz7ADrW