Buddhists consecrate temple
By ROBYN L. MINOR, The Daily News, May 1, 2010
Local residents also celebrate Buddha Day
Bowling Green, Kentucky (USA) -- Bowling Green residents consecrated the Buddhist International Temple on Saturday, coinciding with the celebration of Buddha Day.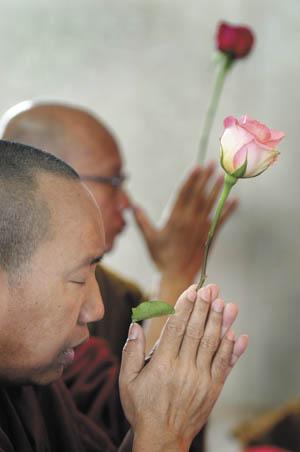 << Hunter Wilson/Daily News
The Venerable Parama, a Buddhist monk from Milwaukee, prays during Saturday's consecration ceremony at the Buddhist International Temple.
"Buddha Day falls on April 27 but many of our members have to work that day," Khin Maung Nyunt said.
The celebration had been scheduled for April 24 but was postponed because of rain.
"We couldn't cancel it again," Khin said, standing under a tent as rain poured down.
Khin said Buddhists, many of them refugees from Myanmar, have been worshiping together here since 2005. He estimates there are about 32 Buddhist families, each with four or five members.
Khin said the Myanmar refugees come from a variety of ethnic backgrounds and the group takes pride in its diversity.
Now they will have an official temple to come to become monks if they wish.
At Saturday's celebration, monks from Wisconsin, Cambodia, Fort Wayne, Ind., Pennsylvania and Nashville came to help consecrate the temple.
At first, they were offered a meal, then the monks prayed to Buddha using Pali, an old language from India, Khin said.
The monks knelt on the floor inside the temple, recited their pleas and placed roses on an altar, which included a large Buddha.
Outside, they sat on a stage and continued their prayers, this time asking for peace and harmony.
The refugee families fled Myanmar because of widespread political persecution and a lack of human rights.
"Buddhist doctrine is focused on nonviolence, compromise and harmony," Khin said.
The children, a few of them wearing some traditional dress, pranced in and out of the rain.
Fourteen-year-old Aye Wain, a Myanmar refugee of Korean descent, said she was glad to have a temple to come to. The Moss Middle School student was wearing a pink skirt and top that came from Thailand.
The Venerable Nyanasobhano was the only American-born monk at the ceremony. Nyanasobhano, of Nashville, said the day was a little chaotic, given the language barrier between him and the other monks.
Nyanasobhano said it's hard to pin down how many Buddhists there are in this area.
"But based on the number of temples and worship centers (in Nashville), I say the number is growing," he said.
The Pew Center for Religion estimates that 1 percent of U.S. citizens worship in the Buddhist tradition. In Kentucky, that percentage is between 1/2 percent and 1 percent. California has one of the greatest populations of residents following Buddhist traditions at 2 percent.
Saturday also served as a time to celebrate the 70th birthday of Marty Deputy. Deputy and her husband are providing the land for the temple off Garvin Lane.
Deputy is a former director of the International Center.