Order builds Triangle's largest Buddhist temple
by YONAT SHIMRON, NewsObserver.com, July 9, 2010
Raleigh, North Carolina (USA) -- Set amid cookie-cutter homes and big-box shopping centers, the modern, angular-looking temple that has emerged in the middle of suburbia looks out of place.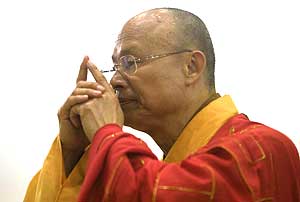 << Venerable Buddhist Master Hsin Ting performs a purification ceremony at the new Raleigh temple. KEVIN ZIECHMANN
With its slanted wooden beams, concrete buttresses and asymmetrical geometry, it tells a story how cosmopolitan Raleigh has become.
Here, at Prince Street and Tryon Road, some people, mostly from Taiwan, have been meeting for years. In 1992, they started meditating in homes; in 2001 they built a small house on the site.
On Sunday, they officially dedicated a $4.5 million building with offerings of incense, flowers and a VIP delegation of elected officials and interfaith leaders. The daylong dedication brought hundreds of visitors from all over the world.
At 15,000 square feet, it is the largest Buddhist temple in the Triangle and includes a meditation hall, a teahouse, a dining room, a library, classrooms and living quarters for its three resident nuns. Designed by an architect from Taiwan and constructed by Raleigh architect Bob Andron, its angular roof resembles one on a ski lodge, its sloping beams an ancient Greek sailing ship with multiple oars.
The temple draws mostly Asian followers, the vast majority from Taiwan, but also China, Malaysia and Vietnam. Mandarin is the language most heard there.
At its center is a shrine of a 12-foot, 12-ton Buddha carved in jade. The gemstone was mined in Myanmar, sculpted in Taiwan, shipped to Wilmington and trucked to Raleigh.
Yet despite its Taiwanese roots, the temple hopes to serve not just Asians but Americans interested in Buddhism. Already it offers an Introduction to Buddhism class every other Saturday and a Wednesday night Dharma study group, both in English. It plans to be a base for other cultural and charitable activities.
The temple is affiliated with Fo Guang Shan, a Taiwanese Buddhist order, which emphasizes humanistic Buddhism, applying the Buddha's teachings of kindness and compassion to practical, everyday tasks laypeople can perform.
"It's not a philosophy or a religion," said the Venerable Ruan Shih, one of the temple's nuns. "It's good concepts we can practice in our daily life."
Active mission
Fo Guang Shan, which means "Buddha's Light Mountain," is a relative newcomer to the ancient tradition. It was founded in 1967 by Venerable Master Hsing Yun, 83, a monk born in China.
The order now has 200 temples across the world; 20 in the United States. In Taiwan it is considered the largest of the Buddhist orders with a monastic corps of more than a thousand, mostly nuns.
"This particular organization is huge," said Barbara Ambros, assistant professor of religion at UNC-Chapel Hill and an expert on Asian religions. "In terms of reaching out overseas and having an active mission, they're the largest."
In the United States, the group is little known beyond an almost forgotten moment in 1996 when Vice President Al Gore stopped by its Los Angeles-area temple for a luncheon and accepted what turned out to be an illegal contribution to the Democratic Party.
Fo Guang Shan draws on two Buddhist traditions: Cha'an, known as Zen in Japan, which emphasizes meditation; and Pure Land, which teaches that one can be reborn in the Pure Land of the Buddha.
"Their main mission is education," said Stuart Chandler, professor of religion at Indiana University of Pennsylvania, who wrote a book on the group. "They want people to understand Buddhism."
Acts of commitment
After Sunday's formal dedication and a boxed lunch of rice and vegetables - the temple does not serve meat or alcohol - another ritual began. The Most Venerable Hsin Ting, an elder of the Buddhist order from Taiwan, led a ritual in which nearly 130 followers affirmed their Buddhist identity and took vows.
Dressed in flowing black robes, these laypeople knelt and prostrated on the bamboo floor, making their commitment public. Some accepted the three planks of Buddhism, known as "three gems": the Buddha; the Dharma, or teachings; and the Sangha, or the community. Others, already dedicated Buddhists, took additional vows known as the five precepts, which are not killing, lying, stealing, drinking alcohol or committing adultery.
Lee Lim, 41, a pharmacist from Cary, said Buddhism and Taoism were part of her cultural background back home in Malaysia. Since coming to the Raleigh area she has made Buddhism part of her daily practice. On Sunday she wore the black robe and made her vows.
"I find it peaceful," she said. "I liked the people, and I got good advice when I encountered the difficulties in life."