Buddhist monastery in Bolivia to host about 100 monks next year
by Andrew Dunn, StarNewsOnline.com, Dec 3, 2010
Bolivia, N.C. (USA) -- In a patch of woods tucked off a Bolivia road, the monks are building teepees. Each one is formed from a few of the spindly pines that fill their 22 acres. In a few months, they will be guest accommodations of a spartan sort.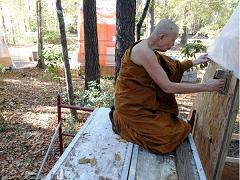 << Photo by Mike Spencer
Buddhist Monk Phra Vidhura Dhammaporn constructs temporary huts on the grounds of Buddhist temple in Bolivia, N.C. Wednesday, Nov. 24, 2010. The Buddhist temple in Bolivia will soon host the national monk convention, with hundreds of visitors from all over the world.
In June, the Wat Carolina Buddhist monastery, the only temple in Southeastern North Carolina, will host a three-day annual conference, drawing about 100 monks from all over the country.
Visitors are welcome to sleep anywhere in the temple, but some monks are particular. They like a quiet place to reflect and meditate.
Why teepees? The monks at Wat Carolina heard of the practice among Native American groups and just thought they were a good idea.
"You'll never see anything like this. It's so simple and easy and natural," said Somsack Moukdarath, who comes to the temple for most of each week. "We live in the natural world."
The temple has been in Bolivia since 1988, shortly after head monk Phra Vidhuradhammaphorn visited his sister on Oak Island and was moved to build one.
Since then, attendance has grown steadily. A few dozen followers regularly come for weekend worship services.
As many as 400 visit for special events, like the late fall festival where lotus flower boats holding candles are floated down the black water creek through the woods.
The annual conference is expected to put those numbers to shame.
On a piece of paper hung above the monk's "office," for lack of a better term, is a countdown to the conference updated daily. The 200-day mark passed not too long ago.
Until then, the temple is getting ready: expanding parking lots as well as adding kitchens and meeting rooms, Moukdarath said.
Last year's conference was in Kissimmee, Fla. Photos show the 99 monks in attendance, clothed in traditional orange robes that bare the right shoulder, sitting at long tables on wrapped in golden cloth.
"We talk about how we can do good things for our comm chairs unities," Vidhuradhammaphorn said. "How to get more happiness in their minds."
The event also draws hundreds more Buddhist followers for religious services and celebrations. Children dance and play instruments.
Many monks and other Buddhists will come to the region days or even weeks early and stay after.
Vidhuradhammaphorn said he expects the Battleship North Carolina to be a popular destination for visitors.
"A lot of people are going to be here to support and help out," Moukdarath said.
Wat Carolina leaders said they hope the conference to draw more interest and visitors, and hopefully enough support to expand.
They hope to build a new temple that will allow new monks to be ordained there.
"This place is going to be the biggest temple in the United States," Moukdarath said. "It has good vibrations."