Dalai Lama nephew killed along A1A in Florida
By JULIE MURPHY and PATRICIO G. BALONA, The Daytona Beach News-Journal, February 16, 2011
THE HAMMOCK, Florida (USA) -- A Flagler County couple who spoke with Jigme Norbu, a nephew of the Dalai Lama, about an hour before he was killed while walking along State Road A1A say they hope his death will further advance the goal of his "Walk for Tibet."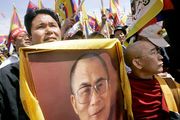 << Jigme Norbu holds a photo of his uncle the Dalai Lama during an April 2008 rally in San Francisco. (AP | Jeff Chiu)
Two of Norbu's companions, meanwhile, vow they'll continue the political activist's planned 300-mile trek from St. Augustine to South Florida to raise awareness of the Tibetan struggle for independence from China.
Norbu, 45, was killed during the first day of the journey on foot along Florida's coast. He was struck about 7:30 p.m. Monday by an SUV driven by Keith O'Dell, 31, in the 5600 block of A1A, just south of Hammock Hardware and Newcastle Shipyards.
Norbu was killed instantly, according to Flagler County Fire Rescue and the Florida Highway Patrol.
O'Dell of Palm Coast was not charged and could not be reached for comment Tuesday.
He and his two children in the SUV, Bradon, 3, and Bohdi, 5, were not injured.
Gary Collins and his wife, Damian, owners of the Hammock Wine and Cheese Shoppe, said they met and chatted with Norbu as the sun was setting shortly after 6 p.m. Monday near their condominium just north of their store.
"His mission was to walk the road, not the bike path," said Gary Collins, standing behind the couple's shop near some cans of coconut juice and pumpkin seeds his wife had left for Norbu to help him on his journey.
Damian Collins said it was because Norbu wanted drivers to read the sandwich-board signs he wore to explain his cause that he chose to walk near the road rather than on a path 20 to 30 feet from it.
"The same thing that makes it beautiful here makes it treacherous," she said of the area. "The trees are thick and it's dark. He really wanted his signs to be read."
Norbu was hit while walking south "in the area of the white line" along the outside of the southbound lane, according to the FHP report.
"It was not a situation where we could resuscitate," Flagler County spokesman Carl Laundrie said. "He was pronounced (dead) by our paramedics. It's a very unfortunate situation."
Gary Collins said he took a picture of his wife with Norbu and offered to let him stay overnight in their home.
"He was smiling, happy and had as much positive energy as you could imagine," Collins said.
Norbu is the youngest son of the late Thubten J. Norbu, who came to teach at Indiana University in 1965 and founded what is now called the Tibetan Mongolian Buddhist Cultural Center. The elder Norbu was eldest brother of the 14th Dalai Lama of Tibet, according to the Herald-Times in Bloomington, Ind.
"We deeply regret the passing of Jigme Norbu and appreciate his work to help Tibet and the Tibetan people," Arjia Rinpoche, director of the Cultural Center in Indiana, said in a written statement.
Local Buddists also mourned Norbu's death Tuesday.
"It's sad that he died while showing the world peacefulness," said monk John Sengnalyvong, who was standing outside the Wat Phoutapasaram Buddhist Temple south of Crescent City, just across the Volusia County line. "He was showing how peace can bring change in the life of people."
Norbu's choice for a peace walk is very appropriate as it is the symbol used to welcome something new seen as a blessing, said Vattana Soydara, another monk.
"Whoever is in search of peace is like a monk to us," Soydara said. "For him to pass away like this is like losing a member of the Buddhist family."
Many Hammock residents came to the crash site Tuesday to pay their respects.
"My wife drove by and saw it," said Richard Stuckey with A & S Water Engineering. "She didn't see a car. It's such a shame. This is such a tragedy to have someone like this die; someone who was trying to do so much good."
Marilyn Bagdones walked up to a small memorial of seven red roses in a green vase along with an angel figurine and added two stones from the shores of Lake Michigan she had carried with her from her home in Traverse City, Mich. They were brightly painted with the word "peace."
"This is a beautiful, historic byway," she said. "A lot of people walk here with their causes. I walk here every day and no one seems to know why he was on this side of the road."
Gary Collins said the five-minute conversation he and his wife had with Norbu -- and the tragedy that befell Norbu afterward -- will forever change him and his wife.
"We offered to let him stay but (Norbu) said he and his companion wanted to sleep under the stars. That's when we told him he could stay here (behind the wine shop)," Gary Collins said. "Damian set out soap and towels for them and food."
Damian Collins said she hopes something positive will come from Norbu's death.
"It (Free Tibet) is a cause I've always felt positive about," she said, noting she's adorned her car with bumper stickers bearing that message for at least a decade. "What a terrible roller coaster, from elation to horror, this has been."
Then she shared something she had penned after a long, sleepless night.
"On Valentine's Day, Jigme Norbu chose to show what mattered, and walk for what is right and really happening at the moment: the struggle for peace for Tibet," she wrote Tuesday. "Unfortunately, after over 7800 miles, 21 walks & bike rides, Jigme lost his life not far from my shop right at dusk."
Local monks said Norbu's death does not mean an end to efforts to bring attention to Tibet's cause.
"If he was a teacher, he had students. Peace did not die with him," Soydara said.
"Somebody else will continue spreading the peace and the message that brings hope to people."
According to the website walkfortibetflorida.com, Wangchuk Dorjee, a former member of the Tibet Parliament, and Kim-Brand intend to continue the "Walk for Tibet."
"Once we regroup and handle the difficult immediate tasks, probably tomorrow (Wednesday) we will continue southward along the Florida coast spreading the message of world peace, human compassion and Tibetan independence as Jigme had desired," Kim-Brand wrote.
Morris Sullivan, leader of the Volusia Buddhist fellowship of DeLand, said Buddhists and non-Buddhists interested in social justice will "feel sadness at the loss."
"I suspect this may actually raise awareness of the efforts of Norbu and his colleagues on behalf of Tibet, which would be a good effect of an unfortunate event," he said.
Sullivan said he felt sad for Norbu's friends and family and compassion for O'Dell and his family, hoping they can find some comfort.
"We can use an event like the death of Jigme Norbu to remind ourselves that there is a lot of good work to be done, both for the benefit of others who are struggling under the weight of injustice and for the sake of our own inner peace," he said.