Buddhist educator brings message of compassion, kindness to Wabash Valley
The Tribune Star, April 8, 2011
TERRE HAUTE, Indiana (USA) -- Earthquakes in Japan and conflicts throughout the Middle East are modern-day examples that life is impermanent. That's the message Arjia Rinpoche, one of the most prominent Buddhist teachers and the only Tibetan high lama of Mongolian descent, spread across the Wabash Valley during presentations Thursday evening at Rose-Hulman Institute of Technology and Indiana State University.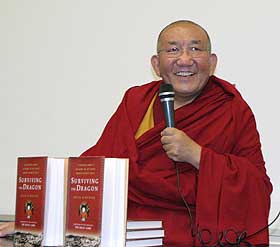 "The world is always evolving. We live in an ever-changing place, with little reason or explanation about what's happening," Rinpoche said before his Rose-Hulman presentation. "Religion and spirituality can help provide relief from the suffering. However, we need to always extend helping hands and comfort one another in times of need."
While earthquakes, tsunamis and hurricanes are natural disasters with seemingly little explanation, war and conflicts over government control are manmade occurrences. And the latter inflicts the greater harm on society, according to the director of the Bloomington, Ind.-based Tibetan Mongolian Buddhist Cultural Center.
"Sometimes people can do great things and sometimes people can do bad things to one another. These are times of great concern throughout the world," he said.
Rinpoche's 2010 memoir, "Surviving the Dragon," offers an intimate first-person account of one man's struggle for freedom, while also telling the larger story of the Chinese cultural revolution and Tibet's ongoing fight for independence. Rinpoche escaped from Tibet in 1998. This decision to go into exile echoes the flight of His Holiness the Dalai Lama of Tibet to India in 1959, when Tibetans rose in protest against the Communist invaders.
Rinpoche grew up identified as the reincarnated abbot in Kumbum, one of Tibet's major monasteries. He trained with lineage teachers, such as His Holiness the Dalai Lama and His Holiness the Panchen Lama, from whom he received many sacred teachings and ritual instructions. Unlike many stories from Tibet, his memories are not those of torture and suffering under the Chinese but of suffering and fame. As a child he was treated like a living Buddha, and as a young man he emptied latrines. After the death of Chinese leader Mao Tse Tung, Rinpoche rose to prominence within the Chinese Buddhist bureaucracy, becoming vice chairman of the Buddhist Association of China, and was slated to become its chairman.
At the time of his escape to America in 1998, Rinpoche's life was one of ease, which would have continued if he had agreed to become a tutor to the boy whom the Communist Chinese had unconscionably named the 11th Panchen Lama. It was a political move against the Dalai Lama and his Buddhist faith. Rinpoche's conscience would not allow him to be disloyal to the values of his mentor the 10th Panchen Lama, or His Holiness the Dalai Lama. As a result, he fled Tibet rather than betray his Buddhist religion and his Tibetan and Mongolian heritage.
In America, Rinpoche started the Tibetan Center for Compassion and Wisdom in Mill Valley, Calif. In 2005, he was appointed TMBCC's director by the Dalai Lama. Presently, he directs both centers, which are dedicated to the preservation of Buddhist teachings, art and culture inside and outside of Tibet and Mongolia.
The Dalai Lama has since set up a Tibetan government-in-exile in Dharamsala, India. More than 80,000 Tibetans fled Tibet at the time that His Holiness left. Presently, there are more than 120,000 displaced Tibetans living throughout the world.
"We watch with great interest the ongoing struggles for freedom throughout China, and hope for the day when we can return to our homeland [Tibet] with pride," Rinpoche said.
Thursday's presentation at Rose-Hulman was organized by the Department of Humanities and Social Sciences and supported by the Elsie Pawley Fund. The session was attended by students, faculty and staff members.
"It was a great opportunity to learn from one of the world's spiritual leaders," said Steve Letsinger, Rose-Hulman's coordinator of arts programming.