David Loy to present Religion Forum lecture on 'Buddhist Reflections on Eco-Crisis' May 5
Luther.edu, April 21, 2011
Decorah, Iowa (USA) -- David Loy, professor, writer and Zen teacher in the Sanbo Kyodan tradition of Japanese Zen Buddhism, will lecture at Luther College Thursday, May 5 at 7 p.m. in Room 102 of the Franklin W. Olin Building.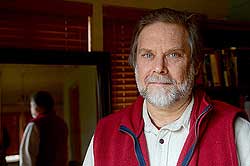 << David Loy
A Luther Religion Forum lecture, Loy's presentation is titled "Healing Ecology: Buddhist Reflections on the Eco-Crisis." The program is open to the public with no charge for admission.
Loy will argue that there is an important parallel between what Buddhism says about our personal predicament and our collective predicament today in relation to the rest of the biosphere.
Loy lectures nationally and internationally on various topics, focusing primarily on the encounter between Buddhism and modernity and what each can learn from the other.
He offers workshops on "Transforming Self, Transforming Society" and on his most recent book, "The World is Made of Stories."
Loy's essays and books have been translated into many languages. His articles appear regularly in major journals such as Tikkun and Buddhist magazines including Tricycle, Turning Wheel, Shambhala Sun and Buddhadharma, as well as in a variety of scholarly journals.
He is on the editorial or advisory boards of several journals, including Cultural Dynamics, Worldviews, Contemporary Buddhism, Journal of Transpersonal Psychology and World Fellowship of Buddhists Review. He is on the advisory board of several organizations including, Buddhist Global Relief, the Clear View Project and the Ernest Becker Foundation.
Loy holds the bachelor of arts degree from Carleton College, the master's degree from the University of Hawaii and the doctoral degree from the National University of Singapore.
Loy is a professor of Buddhist and comparative philosophy. He has taught at Bunkyo University in Japan and at Xavier University in Ohio. He has served as visiting scholar at the University of Cape Town, South Africa, and as a research scholar with the Institute for Advanced Study at the Hebrew University of Jerusalem.
Loy's lecture is sponsored by the Luther College Religion Forum, the Luther Center for Ethics and Public Life and the Luther Diversity Center.