Deer Park Builds New Tibetan Buddhist Temple in America?s Heartland
By Tashi Tsering, Times of tibet, April 12005
Oregon, Wisconsin (USA) -- Deer Park Buddhist Center, Oregon Wisconsin, will be hosting a celebration on Friday, April 22, 2005 to recognize the beginning of construction of their new temple.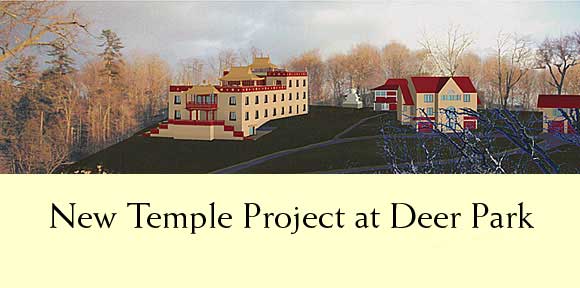 Ven. Geshe Sopa, Deer Park Abbot and UW-Madison Professor Emeritus, is one of the most highly respected Tibetan Buddhist teachers and scholars in the world, and has been a respected spiritual presence in the Madison community since 1967. His message of practicing kindness and compassion encourages Madison Tibetans and Deer Park members locally and world wide to strive for peace of mind and a good heart.
Deer Park's original temple was constructed in 1981 when His Holiness the Dalai Lama gave the first on-site teachings. Geshe Sopa's longtime vision has been to invite the highest quality of Tibetan spiritual masters and scholars to teach at Deer Park and to provide the necessary, adequate temple space for all students who wish to study.
The new temple will be a landmark structure in America's heartland, combining the beauty of traditional Tibetan architectural features with environmentally sustainable building methods. A main assembly hall with geothermal heating will house historic paintings and statuary. Proposed cultural and language classrooms, library space for precious texts and audio/video teachings, eventual kitchen facilities and surrounding patios and gardens will quietly blend into rural Oregon's natural setting.
Construction is slated to begin spring 2005 and intended to be completed in 2006. His Holiness the Dalai Lama will return to Deer Park for the sixth time since 1979 and participate in the Fall 2006 Opening Ceremony Blessing of the new temple.
Construction team members include The Bentley Company of Madison and Milwaukee as General Contractor and VAST Design Collaborative of Milwaukee as Architect.
At various times, Deer Park Buddhist Center will be seeking the crucial involvement of skilled craftsman and volunteers for such projects as painting, assisting with the Tibetan ornamentation, carpentry, clearing trees, landscaping, and site clean-up.
Tibetan Art Projects
The Tibetan Art Projects (TAP) are significant to this temple project in providing the Tibetan appearance and contributing to the preservation of Tibetan culture. In order to authentically design the Tibetan details in accordance with tradition and guide the construction, Deer Park is inviting two wood artisans and two painters from Lhasa Tibet to participate in the appropriate phases of the construction.
For more information on the Deer Park Buddhist Center, please visit: www.deerparkcenter.org