Buddhist monk shares experiences on the road
By DAVE GOSSETT, The Herald-Star, October 8, 2012
Steubenville, Ohio (USA) -- It was raining when Sunim Daeung rode across the Market Street bridge Sunday afternoon.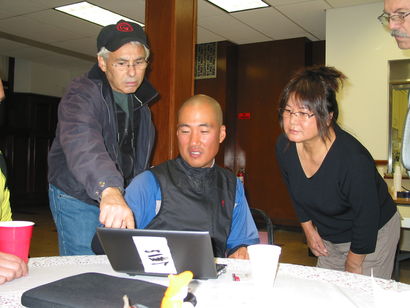 But the 42-year-old Buddhist monk was all smiles as he clasped his hands together and slightly bowed to Jerry Barilla.
"It is good to meet you," Sunim said softly.
"I am glad to meet you," responded Barilla before leading the monk toward the Historic Fort Steuben Visitors Center.
The South Korean had just completed a 43-mile bike ride as part of a two-year bicycle journey that started April 18 in Vancouver, Canada, and will continue through the United States before he heads south to Mexico and then South America.
He anticipates completing his trip in 2014 when he arrives in Patagonia.
Sunim, a teacher at his Buddhist temple in Seoul, said he wanted to "experience life," so he bought a South Korean Toga touring bicycle and flew to Canada.
"I never rode a bicycle before and I didn't speak any English. It has been a learning experience for me. When I came here the only English I knew was 'I'm sorry' and 'thank you,'" said Sunim, who explained Buddhist monks traditionally use only their first name.
Part of Sunim's story was shared by Bruce Stemplewski of Robinson Township, Pa., who accompanied the monk on his trip to Steubenville.
Stemplewski is a member of the Warmshowers organization, which hosts people traveling by bicycles.
"I have traveled around the world on my bicycle and have been taken care of by hosts in different countries. When I heard about Sunim's trip, I offered to host him for the weekend," cited Stemplewski.
"Sunim was in British Columbia where he had a flat tire. He has extra inner tubes and was repairing his tire when a man named Dave stopped and offered to help and a place to stay for the night.
That was the beginning of Sunim's trip," related Stemplewski.
"People have been very kind. They are very good here. But it is very cold here," laughed Sunim.
"I decided on America because Europe has too many different languages. I am learning English from everyone I meet. America is very good and very beautiful. My country is very small. The first time I saw America everything was so big. But people here are very kind," remarked Sunim.
Stemplewski had contacted the visitors center asking for a place to camp for the night.
"We couldn't accommodate them, but I knew Rev. Jason Elliot at the First Westminster Presbyterian Church let the YouthWorks groups stay in his church community room during the summer, so I called him and he agreed Sunim and Bruce could stay there for the night," explained Barilla.
So after a brief tour of the fort and a conversation about how Sunim plans to live for the next two years, the bicyclists stretched their legs by walking from the visitors center to the church where they were greeted by Elliot.
"We have air mattresses and hot showers for you. But first, one of our church members is going to cook you a South Korean meal," said Elliot.
That's when Keumyon Clark, a native of South Korea, and her husband and son arrived carrying pots and plastic containers of food.
Clark met her future husband Mark when he was stationed with the
Army in South Korea in 1970.
"My wife has been back to South Korea about five or six times. And she loves to cook the traditional South Korean dinners," said Mark.
"You start frying the beef," Keumyon instructed Elliot as she sat down with Sunim to chat in Korean.
"We will be having beef, squid, rice and tofu soup along with Kimchi or fermented cabbage and cucumbers. It is all nonfat food with protein for Sunim," she explained.
"After a several minutes of conversation in Korean, Clark said Sunim had become a Buddhist monk when he was 19 years old.
"He wanted to experience life. He wants to find out where he is at in life and find out the truth of himself. When he is finished with his trip he will return to his temple in South Korea to continue teaching," related Clark.
As the aroma of the food started to spread across the community room, Sunim started peering into the kitchen.
"I am hungry," he said.
"Here, you take a Korean pear. We grow them on our property," offered Clark.
"The food was delicious. It was beautiful and I ate things I had never had before," said Barilla.
And after a breakfast this morning Stemplewski was to ride his bicycle back to Robinson Township and Sunim was to cross the Market Street Bridge back to West Virginia where he will ride south on state Route 2 to Wheeling and then cross the Ohio River and head south on state Route 7 to Barnesville and points beyond.