Buddhist Monastery Planned for South Savage
By Clare Kennedy, Shakopee Patch, May 7, 2013
Savage, Minnesota (USA) -- This week Savage Planning Commission will consider an application from Tay Phuong, an organization which hopes to convert a single family home into a Buddhist worship space and monastery.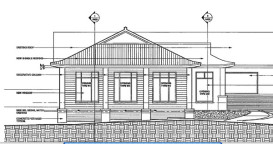 Savage may soon be home to a Buddhist monastic community.
The city has received a request from an applicant to turn a single family home into the Tay Phuong Monastery. The house sits on a 29-acre site at the southwest corner of 150th Street and Scott County Road 27.
Once complete, the newly-revamped building would include a worship space for 70 people and permanent living accommodations for two monks. Officials with Savage city planning say that the monastery is a compatible use for the area, which is zoned for mixed development. The spot sits between single family homes to the west, townhouses to the north and a large swath of undeveloped property to the east.
According to the website, the organization was attracted to the property because of the "beautiful, natural and pure environment" surrounding it.
"This will be a place for people to learn and practice Buddhism, as well as a place for monks and nuns to spread the dharma," wrote the Venerable Thich Hanh Duc on the organization's website.
Eventually, plans may include construction of a completely new facility, though no specific timeline has been set for future development of the site, city panners say. Thich Hanh Duc's note indicated that the organization hoped to build a Four-Gratitude tower as well, which would house relics of the Buddha and ancestors' ashes.