Tibetan Buddhist Monks Create Sand Painting In Traverse City
By Sara Hoover, IPR, Apr 16, 2014
Michigan, USA -- The Dennos Museum Center of Northwestern Michigan College is hosting Tibetan Buddhist monks this week.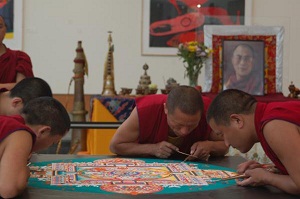 << Tibetan Buddhist monks create a mandala, an intricate sand painting at The Dennos Museum Center.
Sara Hoover
They are constructing a mandala sand painting. It is an intricate design made with thousands of grains of colored sand over a period of days or weeks.
They began the design on Monday and will complete it on Saturday.
"It is really one of those totally unique experiences," the museum's executive director Gene Jenneman says. "This is not something that happens in Traverse City every day by any means, and so it's one of those unique opportunities that we can bring to the community."
The monks are from the Mystical Arts of Tibet, and their tour is endorsed by the Dalai Lama.
To create the mandala, the monks use a traditional metal funnel called a chakpur. They run a metal rod on its surface. The vibration causes the sand to flow onto the platform.
Jenneman says there is a community mandala that visitors can help create as well.
"We've created the design in advance, and it's not as complex as of one the course of they're doing," he says. "But it gives you the opportunity to see how it is actually done and sort of appreciate the skill that goes into making this happen."
There will be a closing ceremony of sacred music and dance Saturday evening in the museum's Milliken Auditorium.
The performance features multi-phonic singing, where the monks simultaneously sing three notes of a chord. The monks, who are from the Drepung Loseling Monastery, are known for this unique singing. They also use traditional instruments like the 10-foot-long dung-chen horns, drums and gyaling trumpets.
After the concert, the sand will be swept up and distributed to attendees. Some sand will be deposited into the Great Lakes.