Buddhist monks honor memory of Harold Ramis
by Karie Angell Luc, Sun-Times Media, Aug 8, 2014
Evanston, Illinois (USA) -- Erica Ramis found herself seated comfortably Aug. 6 in the Glencoe Community Garden as a special guest.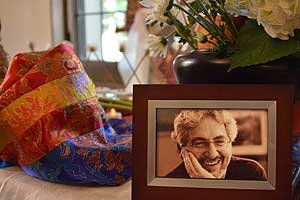 << A table was adorned with a photograph of Harold Ramis and symbolic offerings Aug. 7 at Lake Street Church in Evanston, during a sacred sand mandala ceremony. | Karie Angell Luc/for Sun-Times Media
There, at sunset, with the moon visible to the south, she listened to the chanting of Tibetan monk refugees from the Drepung Gomang Monastery, a Buddhist sanctuary in South India.
The monks are on a yearlong U.S. tour, and stayed the week at Lake Street Church in Evanston. They came by van to Glencoe to perform a fire blessing honoring the memory of her late husband, Harold Ramis.
Ramis, an American filmmaker known for penning, directing and starring in Hollywood blockbusters such as "Groundhog Day" and "Ghostbusters," died in February.
Ramis, whose good nature was buoyant despite the challenges of being ill the last four years of his life, was deeply interested in Buddhism, his family said. The screenwriter playfully referred to the Dalai Lama in the 1980 film "Caddyshack," which he also directed.
"He (Harold) used to say he was Buddish or Jewist," Erica Ramis said with a quiet laugh.
He and his Erica were pivotal to the Dalai Lama's visit to Chicago several years ago. Simply talking about her husband can cause Erica Ramis to halt in mid-sentence.
"It's been nearly six months and it could be a minute or six years," said Erica, of the grieving process. "It's deeper, richer, harder and difficult. I'm trying to be open and present."
The fire cleansing or "fire puja" also blessed the Glencoe Community Garden with an abundant harvest.
The fire puja would "bring health and well-being to our community, to the environment and to the garden for a wonderful crop," said Nina Schroeder, of Glencoe, one of the garden's co-founders.
"It's just so lovely because it just brings everyone together for a purpose of peace and harmony and justice for the world," said Vivian Nitzberg, also co-founder.
The garden, tucked along the Metra east railroad tracks, was also co-founded by Jim Goodman of Highland Park. It was started in spring 2012 by Glencoe Am Shalom at its 40th anniversary. All crops benefit soup kitchens or food pantries.
The garden's raised beds were flush with edible foliage and ripening tomatoes Aug. 6.
While Harold Ramis had no green thumb, he was "a handy craftsman," son Daniel Ramis, 19, said of his father, who loved making things with his hands.
Ramis would have liked the Tibetan sand mandala and intricate design the monks constructed inside Lake Street Church, the family agreed.
At the sacred sand mandala ceremony, Daniel, Erica and Laurel Ward, Ramis' partner at their Highland Park-based Ocean Pictures, were in the Evanston audience about 18 hours after the Glencoe fire cleansing.
"It's almost kind of like a funeral service because it is celebrating joy but also the impermanence of life," Rev. Steve Van Kuiken said.
Featuring colored sand, the mandala is about the size of a large coffee table. After chanting and symbolic gifts to Erica Ramis, the monks destroyed their creation gently with brushes. Small portions of sand were offered in plastic bags.
When combined, the bright sands became an earthy color, suggesting dust.
"That's the color of the Earth," said Dawa Tsering, an interpreter for the monks.
"It's brownish green, the color of life and earth," said David Choerab Moy, of Chicago.
As the Drepung Gomang's North Shore tour ended two days of emotional observances, parting words did not come easy For Erica Ramis.
"I'm feeling incredible actually, it couldn't have been better … beautiful," she said, pausing at one point. "It's everything that I can't express about what I've been thinking and feeling and going through in this whole process of grief.
"This was a perfect expression for it."