Buddhist temple fills growing need in northeast Wisconsin
Buddhist temple fills growing need in northeast Wisconsin
NEWTON, Wis. (USA) -- Songkran was recently celebrated across the globe - from Thailand to rural Manitowoc County.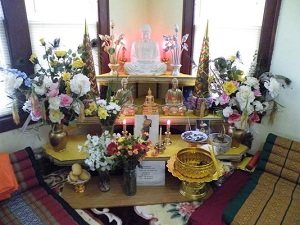 And for the Bounchum Buddhist Temple in Newton, its festivities not only marked the beginning of the Thai-Laos New Year, but the continuation of its new journey in northeastern Wisconsin.
Abbot Ashin Dhammasiri, native of Myanmar, moved to the area last year because of the growing need locally for a communal worship site. The temple only recently received town board approval to operate out of a converted farmhouse.
The transformed property is the only Buddhist temple between Green Bay and Milwaukee, Dhammasiri said. The location was chosen for its convenient proximity to Manitowoc, Green Bay and Sheboygan.
Steve Maurer, a Manitowoc-based Realtor, helped Dhammasiri, who speaks only some English, acquire the property and work through the process of bringing the building up to code.
"We had to put a ramp in. We had to put a new furnace in and new (Americans with Disabilities Act-compliant) bathroom," he told HTR Media (
http://htrne.ws/1DTVSoO
). "We had to put a parking lot in. We had to do all kinds of stuff. It took us about a year to get it all done and get all the permits.
"Now, they're already talking about getting bigger," Maurer said with a laugh.
Maurer and his wife, Denise, who's been a Buddhist herself for 30 years, say they are happy to see religious opportunities expanding in the area.
"It's really a big deal because I think it shows the beauty and the diversity of Manitowoc and how it's growing and that these people are welcome here," Denise said.
Dhammasiri, whose ordained name is Maha Swati, is a Theravada monk. Theravada means "teaching of the elders" and is thought to be the oldest and purest form of Buddhism.
"Buddhism is all about loving, kindness, generosity and doing no harm," Denise said. "It is about helping people find peace and calm and contentment with what is here now. It's about wholesome living. Buddhists believe in interdependence of all living beings."
Much of the New Year's festivities were performed in Pali, the original language of the Buddha, and the rest was performed in Lao.
Many of the temple's members - who brought offerings of food and money, as is traditional in Buddhism - are immigrants of Laos, Thailand or Cambodia.
"These people are born Buddhist and in their countries . it's a huge, huge part of their culture," Denise said. "In Thailand, every morning, millions of Buddhists get up very early and they prepare food for their family, but also for the monks.
"Every morning, the monks … walk to the village with their offering bowls and the villagers fill their bowl and that's how they eat," Denise added. "And in return, the monks take care of the people spiritually."
The Newton temple - on the first floor of the former house - is covered with ornamental sitting rugs for visitors, who leave their shoes at the door. An altar adorned with a large, golden Buddha statue brought by Dhammasiri from Thailand is the focal point for the meditation-like practices.
"I was there when they got that statue, and it was the cutest, funniest, but most beautiful thing, because these people all grabbed and picked up this 500-pound thing and went up steps and through a door," Denise said.
"Little, tiny Laotian people, little grandmas with their pocketbooks hanging over their arms and they'd (say) 'one, two, three' and they would heave it forward," Denise added. "And that is the beauty of these people is … they work for the good of the whole."
Steve said it's the Buddhists' way of life to help people around them, no matter what their beliefs.
"The thing about Buddhists is … once they get up and running, if they see a need or a place to help in the community, they will help," he said. "I think as time goes by, people are going to be surprised as to what the Buddhists will do."