Perry Buddhists celebrate first teaching
By JASON WORTHY, The State News, July 27, 2005
Observance a time for strengthening meditation, faith
Perry, Michigan (USA) -- Saturday was the start of the Buddhist celebration Asalha Puja and the Rains Retreat, and many gathered at a local monastery to celebrate its commencement with meditation and ethnic food.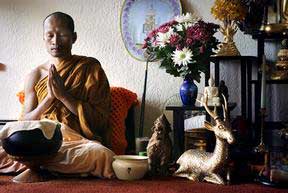 << Ajan Nanthakul receives a food offering Tuesday morning at Dhammasala Forest Monastery in Perry. Buddhist monks and nuns eat one meal per day and do not eat after noon. TRAVIS HAUGHTON, The State News
Ajahn Khemasanto, the abbot at Dhammasala Forest Monastery, 14780 Beardslee Road in Perry, said the retreat is a time for monks to meditate.
"This a special time for monks to take on special practices and be more strict in meditation," he said. "During this time we increase meditation studies."
Asalha Puja is a celebration of the Buddha's first teaching after he achieved enlightenment, and it falls on the full moon of the eighth lunar month, July.
The Rains Retreat falls on the first day after the full moon and marks the beginning of the three-month Buddhist retreat period.
During the retreat, all monks have to stay in their temples, Khemasanto said. They are not allowed to travel or spend the night in any other place unless it involves spiritual business or emergencies. Even if they must leave, he said, they cannot stay more than seven nights.
This retreat is set aside for solemn contemplation and meditation for both monks and laymen alike.
Jidsanupun Sirunrakas, assistant abbot at Maya Nikaya, the Midwest Buddhist Meditation Center in Warren, Mich., said meditation time all depends on the monk and his current situation in life.
"Time spent meditating can vary from monk to monk," he said. "Sometimes it will be a couple of hours and then it might be just 15 minutes."
MSU alumnus Matthew Sabo has been practicing Buddhism for four years and hopes to be ordained as a monk one day.
"I've been coming to Dhammasala for four years and lived there for one year," he said. "The retreats here are very flexible, unlike other monasteries, and the teachers here have a lot of experience for everyone to learn something."
Terry Terry, president of the Board of Directors at Dhammasala, said teaching is a big part of this celebration.
"We have teachings that explain anything you think, say or do should benefit you and others," he said. "If not, then you shouldn't do them."
Another lesson taught is calming the mind to obtain wisdom, Terry said.
"We let our mind take us here and there and play with our emotions so Buddhists stop and observe the mind and body," he said. "These are very important lessons."
Even though the Rains Retreat is for monks, the Dhammasala is open to the public.
"We recommend that all people come in and participate in some of the teachings or just simply come out and talk to the monks," Terry said.
Sirunrakas said he agrees.
"Anyone can come in and meditate or listen to teachings," he said. "But during the Rains Retreat there are special ceremonies that include listening to the monks talk and expressing to people to do the best things in life they can."
The end of the Rains Retreat falls on the full moon of the eleventh lunar month, which is October.