Buddhist sanctuary takes in Katrina dogs
By Carol La Valley, The Payson Roundup, October 11, 2005
Young, Missouri (USA) -- The Buddhist sanctuary near Young has taken in 130 dogs (some pregnant), left homeless by Hurricane Katrina.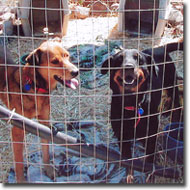 The monks and volunteers have built temporary pens to house the dogs on their property but they are in desperate need of help.
"Each day we need volunteers to walk the dogs, give them TLC and help feed and clean up after them," said Kunzang Drolma, caretaker of the Buddhist temple.
Another animal rescue facility in California picked up some of the dogs Oct. 5, so the Young group is going back to New Orleans to get more dogs."
"We have room for 150 to 200 dogs total," Drolma said, but the number is dependent upon staffing.
The sanctuary is a stepping-stone in part because dogs from the south clearly are not going to be used to the cold weather that is coming to the Rim Country.
"It is temporary as long as it is needed," Drolma said. "We'll need to get warm dog houses.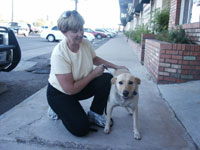 Mary Thode and her husband Tom have >>
taken BF625 into their home to foster. BF625 looks pregnant and if she is, Thode said they would make certain the puppies find good homes. photo - Carol La Valley/Roundup
"Most of these dogs are clearly family pets. They are not used to the lifestyle they are living now. It is amazing how well they are getting on."
Another component is the gas and travel time required of volunteers to drive down the forest road to the facility.
To help walk dogs, contact Donna Rokoff at (928) 474-1542.
An orientation will be given at 8:30 a.m. and 2 p.m. on a volunteer's first day on the job.
Fostering a Katrina dog is temporary -- it's only a 90-day obligation -- said volunteer Mary Thode. She has been helping since last week when the 110 dogs came in from New Orleans by way of Mississippi.
"Within that 90 days, we are hoping that the owners find their dogs again," Drolma said.
"In fact, the very first day that the dogs arrived here from Mississippi we had our first reconciliation. Someone had gone online and recognized their dog. My understanding is that we are going to take the dog back there when we do the next round of rescues."
Foster families may adopt the dog they are caring for after the 90 days. To find out more about providing a foster home for a dog, call (866) 574-9655.
"We are already accepting donations of dog food, money and supplies," said Drolma. The sanctuary is a registered non-profit 501c3 and is holding tax-deductible monies received in a separate fund.
The program is called Tara's Babies. The Web site is www.tarasbabies.org.
The sanctuary has been working in cooperation with Best Friends Animal Society, Diane Reid, founder of Whispering Hope Ranch and many Paws in the Park volunteers.