Speaker discusses Buddhist thought at Lanthorn college
By Alex Upton, Grand Valley Lanthorn, Oct 27, 2005
Hershock's speech includes points about the three main causes of poverty
Allendale, MI (USA) -- Peter Hershock spoke to students and faculty on Monday about the relevance of Buddhist thought and practice in contemporary issues. He elaborated on such topics as poverty, the economy and family relationships.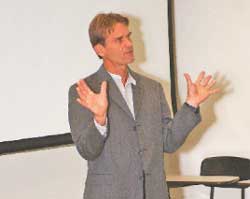 << GVL/ Kate Brown
Explaining it all: Peter Hershock spoke to students and faculty on Buddhist thought and practice Monday in Lake Michigan Hall.
Hershock serves as the coordinator of the Asian Studies Development Program at the East-West Center in Hawaii. He is the author of several books, some of which are used as textbooks for courses at GVSU. His writings include "Liberating Intimacy: Enlightenment and Social Virtuosity in Chían Buddhism" and "Reinventing the Wheel: A Buddhist Response to the Information Age."
Hershock first talked on the issue of poverty. He said 25 percent of the world's population lives on less than $2 per day, while another 20 percent lives on less than $1 per day. Thirty percent of the United States' population lives below the poverty line.
He said the three main causes of poverty are thinking that one can contribute nothing to society, acting autonomously and lacking respect for society as a whole.
He said much of the blame for high poverty rates should be placed on society's refusal to accept interdependence as a reality in today's world.
"The idea that we can separate ourselves from people a state away or a county away is not a reality anymore," Hershock said. "The question that Buddhists must ask themselves now is this: How do we orient interdependence in a direction that will work toward the elimination of troubles and suffering?"
Hershock also elaborated on global interdependence and family interaction and values.
This is no longer the information age, but rather the attention age, he said.
"Sysco stock hasn't moved in the last five years," Hershock said. "Not because it isn't a viable company, but because public attention has shifted to a state where no one thinks that it is a good company."
Hershock said he noticed a pattern of relationships in his research of family interaction. Parents generally spend 30 hours each week talking to their children, while children spend almost 30 hours per week watching television. This, Hershock said, is not conducive to a productive society.
Sixty percent of our attention, on a daily basis, is exported outside of our immediate situation, he explained. He said he believes this is directly related to society's lack of attention to their families and local communities.
"Because of this attention gap, people have trouble feeling that they have the skills necessary to take care of themselves," Hershock said. "Almost all children go to the doctor when they have a cold or a cut nowadays, and most Americans buy prepared food rather than cook it at home. The consumer is the asshole of the country."
He added his attention exportation theory concerns college students.
"As soon as people come out of class, they get right on their cell phone," Hershock said. "The communication is low quality, and it creates a pattern of diminished attention with the immediate environment."
GVSU police officer Minh Lien and his father John, both Vietnam natives, attended the event.
"I came because my dad never taught me about Buddhism," Lien said. "I thought the speech was very enlightening. It helped me to learn a little about Buddhism in today's world."