Buddhist center 'trying to build a community'
BY NICOLE WAGNER, Mount Prospect Times, Feb 23, 2006
Chicago, USA -- Nestled in a short strip mall next to a gas station on River Road, the Dharma Drum Mountain Buddhist Association Chicago Chapter's storefront meditation center is easy to miss.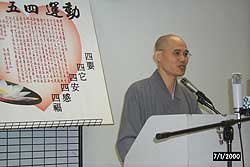 Its out-of-the way location notwithstanding, the chapter's members say they want to change their low profile and reach out to the community. The group has grown since it first started with 10 people meeting at a Northbrook home. At a recent lecture earlier this month, nearly 50 people came to hear an expert speak about Bon, an indigenous Tibetan religion, at their Mount Prospect location at 1234 N. River Road.
On other days, the center is open for Buddhist study, meditation, chanting and other activities.
The Dharma Drum Mountain Buddhist Association Chicago Chapter is an offshoot of the International Cultural and Educational Foundation of Dharma Drum Mountain, which was founded in Taiwan in 1989 by Chan Master Sheng-yen. Sheng-yen has written about 70 books in Chinese and about a dozen in English. Chicago chapter members say his Buddhist teachings emphasize compassion and wisdom.
Northbrook resident Iris Wang read Sheng-yen's work and attended one of his intensive retreats. Sheng-yen stressed spreading Buddhist beliefs and challenged her to create a place for others interested in Buddhism.
---
Dharma Drum Mountain Buddhist Association
- Chicago chapter -
http://www.ddmbachicago.org/
---
"I said, 'What if it's difficult?' " He said, 'It's a given to be difficult. You have to be very brave,' " Wang said.
That conversation sparked the group of 10 that started meeting at her home and eventually led to the 2003 opening of the Buddhist center in Mount Prospect.
The simply decorated center contains a library that includes Sheng-yen's books and a main room for meditation, chanting and lectures. Visitors will notice the open room's burning incense and high humidity. Wang said the center keeps the room warm and humid to protect its wooden Buddha carving. The difference in moisture between Chicago winters and Taiwan, where the Buddha was made, could cause the Buddha to crack, Wang said.
Members present flowers and incense as offerings in front of the Buddha; Fruits are offered on special occasions.
Along with sessions for chanting and meditation, the room also holds children's programs, yoga and exercise classes.
"We're trying to build a community for people who are keen on meditation and Buddhist values," Wang said.
So far, she said, not too many people have found them.
"We don't know if it's because we don't have a lot of exposure, or if it's because fewer people are seeking Buddhism," she said.
Many who found the center did so through the Internet, she said. The chapter includes people from all over the suburbs, and people travel from as far away as St. Charles and Milwaukee to visit the center.
Przemek Oszurek, a 26-year-old man from Round Lake, saw the center's sign when he visited the gas station on the corner. He had been reading books about Buddhism and decided to check out what went on in the storefront. He said studying Buddhism made him examine his behavior and thoughts.
"It made me look at life more clearly," he said. "It pretty much changed my life."
While many who visit the center are Chinese, the group wants to open its doors to all who are interested, said Helen Lau, one of the chapter's members.
"We are constantly finding ways to reach out to the community," Lau said. "We want to belong to the community and to have the community be a part of us. Buddhism does not belong to the Chinese."