Rare Buddhist relics visit Minnesota - Heart Shrine Relic Tour
The Buddhist Channel, July 17, 2006
"The very name 'Maitreya' means loving-kindness – in today's world, we really need loving-kindness. This Project is really wonderful and is the result of great courage and determination, and from the depths of my heart I appreciate and applaud this wonderful project." – His Holiness the Dalai Lama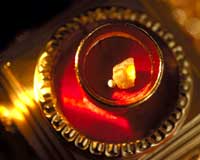 Hampton, MN (USA) -- A precious collection of sacred relics of the Buddha and many other Buddhist masters is currently touring the world and will soon be in Minnesota. This is a rare opportunity to view these relics, which were found among the cremation ashes of Buddhist masters.
They resemble beautiful, pearl-like crystals. Buddhists believe relics embody the master's spiritual qualities of compassion and wisdom and are deliberately produced by the master at his death.
The relics are clearly visible inside display cases that encircle a life-size, golden statue of the Maitreya Buddha. Visitors may participate in a Blessing Ceremony where the relics of the Buddha are gently placed on the crown of the visitor's head as a personal blessing.
People may also bring their animals for a blessing at the Hampton location. Pets also are welcome to attend, because in Buddhist thought, it gives a great blessing to a human to aid a being from another realm in their progress to the next realm.
Visitors often report experiences of inspiration and healing when in the presence of the relics. While some are inspired to pray for world peace and to develop their inner wisdom, others are overcome by emotion as the powerful effects of the relics open their hearts to compassion and loving-kindness.
According to Buddhist scriptures, Maitreya will be the next Buddha to bring teachings of loving-kindness to the world. When the Tour finishes about 2008, these Relics will be enshrined in a 500ft golden statue of Maitreya Buddha in Kushinagar, northern India. Maitreya is the future Buddha, known as the Buddha of Loving-Kindness.
Building the statue itself is not the main goal – the purpose is to inspire an open, kind heart. When people see the giant Maitreya statue or pictures of the relics on a poster or visit them, they will reflect on what it means to have a good heart. It will be a symbol of faith for millions all over the world.
Maitreya Project puts the teachings of loving-kindness into action by:
building the 500ft/152m Maitreya Buddha statue – a magnificent monument to loving-kindness intended to inspire people all across the world to think and act with kindness

providing, free of charge, spiritual, education and healthcare facilities in Kushinagar, Uttar Pradesh, one of the poorest areas in northern India.

providing immediate and long-term employment.

helping to develop the area's infrastructure.

serving as a focus and influence for sustainable, positive development in this emerging part of India.
If you go:
Entrance: No entrance charge for events, both locations. Donations welcome.
Hampton, MN
Dates: Saturday & Sunday, July 22 & 23, 2006 (Friday, July 21 7 p.m. - Private opening ceremony)
Times: 10am to 5pm each day Animal blessings both days (this location only).
Venue: Watt Munisotaram, 2925 220th St East, Hampton MN 55031
Contact: Jean Wallis, email: jean@jeanwallis.com tel: (612) 874 1453
Minneapolis
Dates: Friday, Saturday, and Sunday, July 28, 29 & 30, 2006
Times: Friday 10am - 8pm; Saturday, 9am -7 pm; Sunday 10am – 6pm
Venue: Aveda Institute, 4th Floor Grand Atelier, 400 Central Ave. SE (at Hennepin), Mpls 55414
Special events
Friday 7/28 : Opening processions featuring Tibetan Gyuto Monks' multiphonic chanting of invocation prayers with long horns & cymbals. Times: 10:30 a.m. & 5:30 p.m. at Aveda
Special Saturday 7/29 Event
Teaching of Buddha's Four Noble Truths at 2 p.m, Aveda 4th Floor Grand Atelier, by Venerable Abong Rinpoche of Gyuto Wheel of Dharma Monastery,
* July 29th coincides with the auspicious Tibetan Celebration of Chokor Duechen, the traditional date of the Buddha's first teaching. Meritorious activities on this day are multiplied 10,000-fold.
Contact: Thupten Dadak, cell 651 247 7782
For more information, a press pack and downloadable images, including images of the relics, please visit www.maitreyaproject.org