Monks educate about Tibetan heritage
By Valerie Insinna, The Maneater, September 29, 2006
The monks constructed a sand painting to release healing and peace.
Missouri, USA -- A group of Tibetan Buddhist monks from the Drepung Loseling Monastery camped out in Stotler Lounge from Tuesday to Thursday.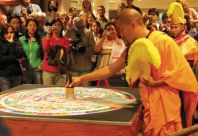 << Marcus Sauer/Staff Photographer
Thupten Tenbhar deconstructs the Mandala at the end of the closing ceremony Thursday afternoon. The sand painting took three days to build, and it is ritualistically destroyed at the end of each ceremony.
The International Programming Committee sponsored the monks' visit in a program called The Mystical Arts of Tibet.
According to the program's Web site, "After the Chinese communist invasion of Tibet in 1959 and the forced closure and destruction of its 6,500 monasteries, some 250 monks from Loseling managed to escape the holocaust and rebuild their institution in Karnataka State, South India."
The Mystical Arts of Tibet group tour the world performing traditional Tibetan art and dance in order to create understanding, as well as protect Tibetan culture and raise funds to provide necessities for monks and nuns.
Persephone Dakopolos, Missouri Students Association International Programming Committee senior chairwoman, first saw The Mystical Arts of Tibet at a conference in 2005 and has since wanted to bring the group to MU.
"It's one thing to sit in a classroom and hear about it, but to actually meet people who have experienced it in their lives is a huge difference," she said.
Dakopolos estimated approximately $10,000 has been made this week in merchandise sales for the Loseling Monastery, but more importantly, the monks have raised awareness of what is going on in Tibet.
"Their story will be heard by our generation, and when we become powerful, we will finally be able to do something about it," Dakopolos said.
From Tuesday to Thursday, 10 monks constructed a Tibetan sand painting called a Mandala. During this process, the monks drew a basic line scheme based on a sacred geometric motif and used a funnel called a chakpur to pour colored sand in detailed patterns.
At the end of its creation on Thursday, a ceremony of sacred chants and music was held to consecrate the Mandala. Afterward, monks destroyed the Mandala by brushing up the sand, distributing some to the guests and pouring what remained into the stream in Peace Park.
Students for a Free Tibet President Susan Wood said the creation of Mandalas releases concepts such as healing, peace and compassion.
"They're more about the process and less about the product," Wood said. "Its destruction corresponds to the Buddhist idea of impermanence, that nothing lasts forever."
The Mandala created at MU was a design symbolizing Green Tara, a female deity who releases enlightening energies.
Lama Thupten Tendhar said the different designs carry different levels of meaning.
"The outer level is the world in its divine form," Tendhar said. "The inner level is a map for the ordinary body, space and mind to reach the enlightened body, space and mind. The secret level represents the primordial perfect balance between energy, body and dimension of mind."
On Thursday night, The Mystical Arts of Tibet performed traditional Buddhist chants and dances. The monks played instruments including horns, bells and drums, sang multi-tonal chants and danced while wearing elaborate costumes. Each dance invoked a theme including compassion, peace and creativity, but some were also filled with humor.
In Senggey Garcham, or The Snow Lion Dance, two monks wore a lion suit to symbolize the enlightened mind and dance to capture the joy that enlightened beings feel. The lion pranced, kicked up its legs, scratched itself, slept and finally released a scroll from its mouth that read "World Peace."
Senior Michael Amantea said he didn't know what to expect from the performance.
"It's a lot more casual and fun than I thought it would be," he said. "I thought I was coming in for a night of culture, and it was more like watching a fair."
When asked about the appropriateness in Buddhist religion of bringing Buddhist art and dance to Westerners, Tendhar said Buddhism teaches that all places are equally sacred.
"A temple is no more sacred to us than any other place," Tendhar said.