The art of Zen Buddhist priest seeks enlightenment through meditation
By JUDY MASTERSON, Lake County News Sun, February 23, 2007
Waukegan, IL (USA) -- The room inside First Congregational Church of Waukegan is silent and dark. Six people are "sitting" erect and very still on cushions, their eyes lowered, their legs folded beneath them, their arms and hands held just so.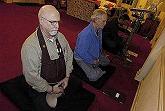 << A weekly meeting of a Zen meditation group includes members Rev. Raymond Witham of Kenosha, Mickey Bly of Waukegan and Rick Clark of Gurnee.
They are not Congregationalists, but practitioners of the ancient art of Zen.
In better weather, the Rev. Chuck Hutchcraft, the Buddhist priest who leads the Grand Avenue Zen Group, likes to meditate along the shore of Lake Michigan. The beauty of the lake does not distract him from his intent, which is not to achieve some stereotypical state of nirvana, but to see "moment to moment what's going on within the self."
The group meets for zazen meditation at 6:30 p.m. Thursdays at First Congregational Church, 329 Grand Ave., near downtown Waukegan. Instruction begins at 6 p.m. Fellowship follows meditation. For more information, call the Rev. Chuck Hutchcraft at (847) 609-7627.
The intent of zazen, or seated meditation, is freedom.
"It's a liberation, but it doesn't take you out of anything," Hutchcraft said. "It's liberating yourself from yourself. It's becoming very intimate with yourself and how you work -- how you cause your own suffering. It's seeing into impermanence, that nothing stays the same, that we are not fixed beings, that we are influenced by everything going on around us and that we constantly changing."
Hutchcraft, 56, came to Buddhism in the usual WASP way. Born a Baptist, he took up Quakerism before sitting with two Zen Buddhist groups in Evanston. He worked with a teacher for nine years before his ordination in 2005.
A newspaper man for 30 years, the "old '60s guy" now works as a statewide-organizer for the Illinois Coalition to Abolish the Death Penalty.
"The combination of Quaker and Zen has had a pretty profound influence on me," Hutchcraft said. "Your awareness grows and deepens until sitting behind a desk doesn't cut it anymore and even reporting doesn't cut it anymore. Zen keeps pulling. It takes you to a deeper connection. It helps you see what you can do."
Hutchcraft lends newcomers a slender copy of "Zen Mind, Beginner's Mind," a primer on Zen meditation and practice based on talks by Zen master Shunryu Suzuki, who died in 1971. Suzuki taught: "Our life can be seen as a crossing of a river. The goal of our life's effort is to reach the other shore, Nirvana. The true wisdom of life is that in each step of the way, the other shore is actually reached."
"In Zen, there is a constant letting go, a constant taking away, not adding to," Hutchcraft said.
Every aspect of zazen meditation -- the posture, the lowered gaze, the "being with the breath," is aimed calming the body and purifying the mind so that insight into the nature of existence can be gained and "satori," or enlightenment can be achieved.
Rick Clark, of Gurnee, who was raised Roman Catholic, was drawn to Zen two years ago.
"In Buddhism, you don't rely on a higher power to transform you," Clark said. "You have to take personal responsibility. As I'm sitting on the cushion, I become progressively more aware of my mind states. Buddhism teaches you shouldn't accept anything unless you experience it to be true. There's no blind faith. You don't have to leave your rational sense at the door."
"Zen clarifies the mind, gets rid of the garbage and allows you to see things as they really are," said Ray Witham, a Buddhist priest from Kenosha. "When you see clearly, you can act. Enlightenment is pretty simple really. It's just getting rid of the junk."