Zen is philosophy for some, religion for others
by Heather Scarlett, Daily Kent Stater, Feb 27, 2007
Kent, MI (USA) -- Tim McCarthy was raised in a born-again Christian family in Michigan. A Buddhist priest at his summer music school introduced him to the Zen philosophy at age 11, and he has been practicing it ever since. McCarthy is now the Zen priest for the Kent State Zendo Buddhist group.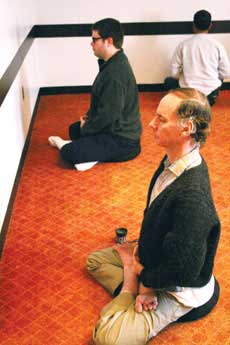 << Members of Zendo sit in silence as part of the meditation part of their meeting. The group meets on most Sundays in the Student Center. Caitlin Prarat | Daily Kent Stater
As a child, McCarthy doubted his family's religion, but the Buddhist priest reassured him that doubt was admirable. It is a form of sincerity.
"I don't think I chose it," said McCarthy, an English graduate assistant. "I grew into it organically."
As McCarthy sat in an office covered with pictures of Zen priests with whom he had worked, he shared his ideas about Buddhism and how it is seen as a religion by some and a philosophy by others.
"I just wanted to develop as a spiritual being," he said about the time in high school he had spent studying Zen at the Matava Buddhist Temple in Saginaw, Mich.
"As a priest and a teacher I'm under the Soto sect (of Buddhism)," McCarthy said.
"It stresses meditation more than other sects," he said. "They want you to have a mystical experience, which they call enlightenment."
In his Zendo sessions, which are held on Sundays from 11 a.m. to 1 p.m. in Room 308 of the Student Center, McCarthy shows those who are in regular attendance and those new to the sessions the positions of meditation and discusses the philosophy.
The discussion phase of the Zendo sessions are held around a make-shift altar. McCarthy adorns it with Buddhist artifacts such as bells, gongs, a tiny brass Buddha statue, a percussion instrument in the form of a fish head, a ceramic tea pot filled with tea as an offering to Buddha and two Valentine's Day stuffed dogs.
Zen Buddhists have a reputation for being formal, McCarthy said, so the Valentine's Day dogs being part of the altar might bother strict Buddhists.
"It is here to service me," he said. "I'm not here to service it."
Charlie Atkins, a former philosophy graduate student recently attended his first Zendo session.
"I'm interested in perhaps connecting with what you call the sangha," Atkins said.
Sangha means belonging to a group of other practitioners or a community of Buddhists who come together to meditate, Atkins said.
Kent resident Art Wilson said he attends McCarthy's sessions to study Zen and the form of meditation called "zazen."
"(There is) a lot of room for questions and getting explanations from Tim," Wilson said.
Toward the last 20 minutes of the session, the meditation, or what McCarthy calls the "sitting" phase of the Zendo takes place.
The lights are dimmed, and participants sit on round, black cushions about a foot and half in diameter called a "zafu," facing the walls. McCarthy dings a bell to start and end this session.
"If something is against your nature, don't do it," he said to the attendants.
Even though Buddhism can be viewed as a religion, McCarthy sees himself as an informal follower of the philosophy.
"I went through a ceremonial ordination. They shaved my head and gave me some robes," McCarthy said. "(But) it was a little too grandiose for my money. I'm just a little guy."