Buddhism inspires woman to sell all her belongings
CTV.ca, April 16 2007
St. Paul, Minnesota (USA) -- A woman who is selling virtually all of her possessions online is citing Buddhism as one of the philosophical reasons behind the drastic overhaul to her personal life.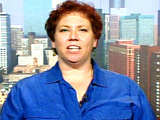 "First of all, was the idea of releasing attachment, related to the Buddhist idea of becoming so attached to possessions that they become the driving force in your life," Perry told CTV's Canada AM. "Another reason was that I just don't want to move and have to carry all this stuff with me again."
Lisa Perry, of St. Paul, Minn., decided to sell more than 300 of her personal items on the web auction site eBay. The items Perry has for sale include women's brand clothing, shoes and various furniture items.
However, the auction also includes refrigerator magnets, mugs from around the world and a milk crate of seashells. Perry is even selling items in boxes she has not opened for years.
"I've got a number of boxes that have got things that I really I'm not sure what's in there," Perry told CTV's Canada AM. "They're things from childhood that seemed too precious to get rid of. But now it's like, you know, do I really, really need to have this?"
Previously, the sale had been listed under the title "Everything Perry Owns!'" on eBay, but this auction ended Sunday and now the items have been divided into smaller lots on the website.
While Perry is selling or giving away most of her possessions, she has decided to keep her pets, photo albums and some of her clothes. She will be donating some of the money she makes to charity and has asked those who buy her possessions to pick them up in person.
Perry's sale has generated an overwhelming response. The media attention her sale has generated has managed to reconnect her with old friends and she has received messages of support from many people who do not know her.
However, the sale hasn't been conducted without its problems. Perry has had to adjust her sale many times to comply with eBay's policies. And on the blog she set up to chronicle the sale, she has indicated another popular website Craigslist will also be used to sell her possessions.
Additionally, her family has expressed surprise over the sale and is concerned about the loss of family heirlooms.
This feeling of regret is one Perry shares over some of the possessions she is selling.
"I have a wind-up Edison record player that I remember listening to as a kid that has World War I records and that's really hard to let go," Perry said. "It needs to be someplace where it can be enjoyed by other people and cared for really better than I could do it."
After the sale, Perry, a legal communications consultant, intends to bring a fresh approach to her life.
She hopes to move to California and pursue writing. But she also plans to change her approach to hoarding possessions.
"I am going to first of all not accumulate so much stuff," Perry said. "There'll be some things that I'll replace, but a lot of it is really to simplify my life."