Friction surprises Buddhist leaders
By Rosa Salter Rodriguez, The Journal Gazette, April 29, 2007
Zoning official says temples are within law
Fort Wayne, Indiana (USA) -- To many, it looks like ordinary gray pea gravel. But to some in southeast Fort Wayne, it marks a religious and cultural divide.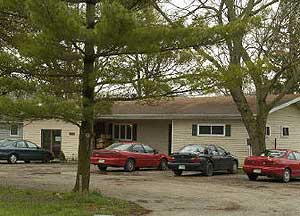 << Photos by Dean Musser Jr./The Journal Gazette
Several cars are parked on the pea gravel in front of Jetavan Vihara Temple, 1204 Sylvia St.
The gravel, in the front yard of Jetavan Vihara Temple at 1204 Sylvia St. off Decatur Road, showed up a year or so ago – after neighbors complained that some of the Burmese Buddhist temple's numerous visitors were, contrary to city ordinances, parking on the front lawn.
"(The city) comes out and says, 'Just put gravel in the yard and make it a parking lot, and you'll be all right.' So now they've got gravel in their front yard. This has just totally lowered the value of my house," says Donna Davis of 1208 Sylvia St., an upset neighbor.
During the past six years, Davis says, Sylvia Street neighbors' patience has been tried by some of the city's newest residents. They are members of one of the growing number of Buddhist temples in the city – new immigrants from Asia whose behavior and customs often don't match American expectations but also don't necessarily run afoul of the law.
Area Buddhist leaders say the city's Buddhists aren't generally straining the bounds of neighborliness.
"We have a wonderful relationship with the neighbors," says Sarogini Ranasinge of the Indiana Buddhist Institute at 5712 Webster St. He points out that the Buddhist organizations generally are independent of one another. "We have no trouble."
Still, apparently long-simmering tensions surfaced in recent days when an article with a Fort Wayne dateline appeared in the April 21 edition of the New York Times. The headline read: "A growing Buddhist population tests the neighborliness of a city."
Davis and two other Jetavan neighbors were quoted in the story, which reported the practice of setting up Buddhist monasteries and temples in houses in the city's residential neighborhoods has led to friction.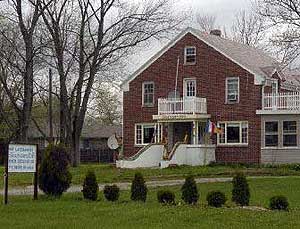 << Wat Lao Samakky, at 6409 Decatur Road, is a temple that serves mostly Laotian refugees whose families began arriving in the late 1970s.
According to area Buddhist leaders, six Buddhist temples and monasteries now exist in and near Fort Wayne. Three – Mon Buddhist Temple, 5824 Decatur Road; Wat Lao Samakky, 6409 Decatur Road; and Jetavan – are within about a mile of each other.
The others are Vihara Mon Buddhist Temple, 3725 McCormick Ave., and the Society of Theravada Buddha Dhammarekkhita Monastery, which is building a new ordination facility for monks called a sima, near 8133 Hartzell Road in Adams Township.
In September, about 26 monks came from around the region to help bless the site in an extensive ceremony. The temple was formerly on South Calhoun Street, where it suffered repeated problems with flooding.
There is also a small Buddhist "meet-up" group in Fort Wayne comprised mainly of Americans.
Buddhist leaders say the differences among the temples are language and ethnicity, says Oudom Nakasen, president of Wat Lao Samakky, which serves mostly Laotian refugees whose families began arriving in the late 1970s after the end of the Vietnam War.
The Indiana Buddhist Society is predominantly Sri Lankan, Ranasinge says.
The other temples have been founded either by natives of Mynamar, formerly Burma, or the country's Mon minority ethnic group, whose members speak a different language, Nakasen says.
At nearly 3,000, Fort Wayne has the largest concentration of Burmese refugees in the United States, according to the U.S. Conference of Catholic Bishops. The local Catholic Charities chapter and the Friends of Burma have been helping resettle people fleeing anti-democratic factions beginning in the mid-1990s.
The Jetavan Temple "is mainly Burmese," said Tincar Lwin, who answered the door Thursday. The young woman said four monks live at the property and one is visiting, but none of them speak English.
Asked about concerns from neighbors, she said, "we don't know them," and that the monks keep to themselves.
But Nakasen says all the temples hold periodic gatherings to which they invite monks and members of other temples in the region. Hundreds of people, including some from other states, might attend, he says, and the numbers could be unsettling to people living near a temple.
He says his 100-family temple has not had problems with neighbors, possibly because of its location. The temple consists of three buildings, including two converted and connecting garages which house an elaborate red-carpeted shrine to Buddha and a kitchen to prepare food for gatherings. There is also a monastery with a small shrine in a brick farmhouse that has been adorned with two dragon statues flanking the front steps.
The buildings are surrounded by open land, with the nearest neighbors across Decatur Road. "It's not like in the city," Nakasen says.
Monks at Mon Buddhist Temple, next to a gas station and convenience store near Paulding Road, also were not aware of friction with neighbors. The temple has about 300 members, says U Visuddha, one of five monks in residence. "No neighbors, no problems like that," he says.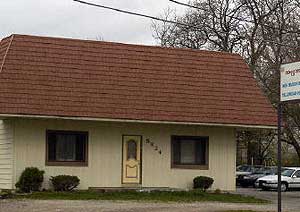 Mon Buddhist Temple, at 5824 Decatur Road, was founded by members of the Mon minority ethnic group from Myramar, formerly Burma. >>
Davis says gatherings are only part of the situation with Jetavan.
During gatherings, people park on both sides of the two-lane street – which lacks curbs – and have blocked driveways and parked in neighbors' yards without permission, Davis says.
One time, a young woman mistook Davis' yard for the temple's driveway and sank up to her axles in mud – the Davises paid for lawn repairs out of their own pocket because the woman was not insured, she says.
Neighbors also have also witnessed monks who have ritually bathed in 50-gallon plastic containers in the temple's back yard, changing their robes before emerging, Davis says. She says neighbors erected a fence. The garage has been converted to sleeping quarters, Davis says.
Then there is noise that sometimes emanates from the house late at night as people prepare food for upcoming celebrations and the trash that accumulates outside the house after the gatherings.
On Thursday, the property's front porch was piled high with empty cardboard boxes, and the smell of garbage nearly reached the street. Nine vehicles, one with its hood up, were parked on the gravel in the front yard. Lwin said people meet there to carpool to school and sometimes work on their cars at the temple.
"I'm a religious person myself, and I understand it, but I just feel they don't have respect for our laws and how we want our property treated," says Davis, who adds neighbors have brought the situation to the attention of neighborhood leaders and city officials, but feel what they say falls on deaf ears. The situation has been going on for several years, she says.
Wallace Smith, president of South Suburban Neighborhood Association and Cherise Dixie, southeast area advocate, said they were aware of neighbors' concerns from meetings.
"They (neighbors) were wondering whether it was appropriate to have that sort of thing in a neighborhood. … They were expressing concern," Dixie said of one meeting she attended. "It kind of died out as being directed at me as something I should do."
Smith said he has looked at the property and discussed it with city officials.
"What I got … was there's not much we can do."
Bob Woenker of the city zoning office says the temples and monasteries are "right out there on the edge of the law." Monasteries are treated as other private residences, even though monks are not related to one another, he says. And there is nothing that prohibits a resident from using a residence for a religious gathering, he says.
Prayer and Bible study groups routinely meet in Fort Wayne residents' homes, Woenker says, and the Amish routinely hold home church services. So long as someone sleeps and cooks and lives in a house, it can't be considered a church, he says, adding nothing prohibits churches in residential zones.
"We don't want to make this a totally cultural thing," he says. However, he adds, buildings used exclusively as churches must meet more stringent safety and accessibility standards, such as sprinkler systems, space requirements and exit signs.
Woenker says placing gravel in a front yard "would not be a concern" if it extends an existing driveway, and adds that other problems such as parking or weeds or noise would be handled by other city agencies, Woenker says.
"We don't have anything on record about that property, either complaints or permits, says planner Bryan McMillan of Jetavan.
Abandoned vehicle reports on Sylvia Street in 2005 and 2006 were followed up, says Patty Stahlhut of the city's parking control office. There have been one or two abandoned vehicle reports at the Decatur Road properties, she says.
Cindy Joyner, customer relations manager for the Neighborhood Code Enforcement office, says that office has responded to four complaints about parking or abandoned vehicles at Jetavan in 2002, 2003 and 2004. But officers were unable to make contact with anyone at the address, she says. One vehicle was tagged at both 5824 Decatur Road and 3725 McCormick St. in 2001. But no complaints have been received recently, she says.
"We will follow up on complaints," she says.
Joyner says records show the Laotian temple was cited by the zoning department in 2003 in connection with work being done without proper permits. The temple retained a lawyer and received proper approval, records show.
Meanwhile, the New York Times article was viewed with dismay by some Buddhists and others as it made the rounds of the Internet.
By Thursday, Fort Wayne Observed, a blog on Fort Wayne life, had received 16 comments from seven people on article excerpts it published. Most discussed bigotry in the area or how residents' Christian values or lack of them were reflected in the story's quoted comments.
"Some citizens of Fort Wayne could do with a good healthy dose of Buddhist philosophy. I'm ashamed to read some of these quotes in this article – it exposes the true ugliness of Americans," one wrote.
Another countered: "Walk out on your street tonight and picture a couple hundred cars parked there. My guess is no matter what country they are from, you'd be a little honked off too. ... My point is, before branding these two neighbors as racists, or intolerant rednecks, I think it only fair we know the whole story."
It all perplexes Ranasinge. "It was very upsetting to us," she says of the article. "I did not see the article, but the monks called. It was very distressing to them," she says.
"He (the reporter) interviewed (monks) from other temples, and our monk's interview was very different from what was portrayed. He said we should write a letter back."
Ranasinge says when the Webster Street temple recently celebrated Sri Lankan New Year, many neighbors joined in, but the temple is considering moving. It needs more space, she says.
"You never know how you will be welcomed by the neighbors in the city because the neighbors are so close," she says. "But we have gotten so much support from our neighborhood."
The Buddhist Channel - Donate to Support Our Work
An Appeal

In deep gratitude for your support! We are half way to meeting our target (US$ 10,400 of US$ 18,000 already achieved)!
The Buddhist Channel is a dedicated group of "mindful communication practitioners" striving to make a positive impact on the Buddhist community. We deeply believe in the power of mindful journalism and are reaching out to you with a heartfelt request for your support. Your donation, no matter the size, can make a tangible difference in the lives of countless Buddhist monastics, local communities and other dedicated engaged workers. With your help, we make their stories known, and thereby opening up avenues for them to obtain sustainable support for their work.
Please indicate whether your support will be a donation or a loan. We will get back to you via email. We thank you in advance for providing us financial relieve. May the Buddha Dharma ever be your guide and protector.

Note: To date, we have received the following:

US$ 900 from Esa Myllykoski (donation)
US$ 9,500 from Lance Edwards/Kau Soo Kin (loan)

We express our deep gratitude for the support and generosity.
If you have any enquiries, please write to: editor@buddhistchannel.tv