Don't believe in God? You might like Dalai Lama
BY SUSAN HOGAN/ALBACH, Chicago Sun-Times, May 3, 2007
His followers meditate, seek inner peace but reject organized religion
Chicago, USA -- Movie stars dote on him. Americans flock to hear him. His spiritual books top best-seller lists. The Dalai Lama, Tibet's exiled political and spiritual leader, is arguably the world's most famous Buddhist. On Sunday, his two appearances downtown at Millennium Park will draw thousands of admirers from a multitude of religious traditions.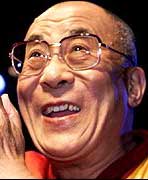 << The Dalai Lama will be making an appearance in Chicago on Sunday. (AP file)
But his main appeal remains Americans who embrace spirituality, not organized religion. These Americans meditate and consume books about inner peace, but many of them don't believe in God.
Like Alice Dan, 65. The Evanston woman discarded Christianity in college. She embraced Buddhism eight years ago.
"I had trouble with religion because of the male God imagery," she said. "Buddhism didn't require me to give up my atheism."
American's love affair with Buddhism exploded in the 1990s. Brad Pitt starred in the movie "Seven Years in Tibet." Former Chicago Bulls coach Phil Jackson popularized the Zen of basketball. "Mindfulness" meditation classes sprouted up at health clinics, spas and workplaces.
Today, businesses sell Buddhist-style furniture, prayer bowls and meditation cushions. At some grocery stores, you'll find "Optimum Zen," a 240-calories-a-bowl breakfast cereal that trades off Buddhism's popularity by promising "inner harmony."
"A lot of Westerners have a superficial idea of what it means to be a Buddhist," said Asayo Horibe, 62, of Evanston, a lifelong Buddhist.
Buddhism also draws adherents who identify culturally or spiritually with another tradition. Jewish Buddhists are known as JewBus (pronounced JEW-BOOS). Christian Buddhists say Buddhist meditations enhance their spirituality.
"There are as many kinds of Buddhism as there are different kinds of Christianity," said Dan Arnold, who teaches at the University of Chicago Divinity School. "Westerners tend to pick and choose Buddhist practices they adopt."
What Americans generally seem to like: Buddhist teachings on love, nonviolence, compassion and selflessness.
What they resist: the top-down teacher-student relationship stressed in many Buddhist traditions.
'He practiced nonviolence'
The irony is that the Dalai Lama is steeped in the most scholarly and metaphysical of Tibetan Buddhism's four major traditions. Its ceremonies, shrines and robed monks embody many of the elements that "spiritual but not religious" Americans tend to reject.
The Dalai Lama became head of the Tibetan government at just 16. Nine years later, with Chinese forces invading Tibet, he fled to Dharasmala, India, where, now 71, he still lives.
"No matter how much his followers urged, he would not raise an Army or fight a war," Horibe said. "Instead, he practiced nonviolence."
The Dalai Lama was awarded the Nobel Peace Prize in 1989.
His weekend visit will be the fourth hosted by the Tibetan Alliance of Chicago since 1991.
When Arnold was 22 and in college, he and other students traveled to India and met with the Dalai Lama.
"When we were first ushered in the room, a few of the students were trying on Buddhist commitments and did ritual prostrations before him," Arnold said.
"He laughed and thought that was very funny. He discouraged people from doing that."