Dalai Lama pilgrims attracted by his spirit, emotion, intellect
by Pat Schneider, The Capital Times, May 4, 2007
'He is the real thing'
Madison, WI (USA) -- Thousands waited in line for hours at the Coliseum to hear the Dalai Lama, the spiritual and temporal leader of Tibet who brings the aura of a rock star to his anthem to compassion.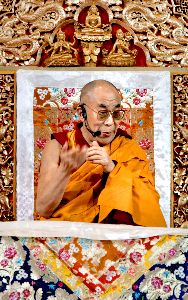 << The Dalai Lama speaks on an ornate gilded throne, a trapping of Tibet, which he left behind in the 1950s when China occupied the country.
Seated on an ornate gilded throne -- a trapping of the ancient world he left behind just a half-century ago -- the Dalai Lama on Wednesday led an attentive throng through a complex examination of ancient texts. The silence of the crowd echoed in the cavernous space as the Dalai Lama, clad in maroon and saffron-colored robes with monks gathered at his feet, stressed the importance of both study and meditation to set out on the path to enlightenment.
About 3,000 people bought advance tickets for the Dalai Lama's series of teachings at the Coliseum. His public talk at the Kohl Center Friday sold out its 12,000-seat capacity a month ago, at a pace eclipsing recent non-athletic events there, a UW-Madison spokesman said.
What is it about this man from a culture so removed that it is difficult for Westerners to comprehend the precise nature of his role, that nevertheless calls to them so strongly? His attraction is spiritual, emotional and intellectual, said adherents, the curious, and thoughtful Dane County residents in interviews this week.
"He is the real thing," Victor Hauser, a nurse from Charlottesville, Va., said outside the Coliseum as he waited with his adult son to hear the Dalai Lama.
Hauser has traveled often to hear the Dalai Lama and said he has made friendships among other pilgrims he meets. "We're like groupies," Hauser said. "At another level, he moves us to be more spiritual. That's something definitely needed in a world at war."
The Dalai Lama has "rock star" appeal, said Karen Stevenson. "People get caught up in that, but I don't think that sustains their interest."
A nurse who works in pain management, Stevenson said her first contact with Buddhism was when she heard the Dalai Lama speak at the Field House during a visit to Madison in 1989, the year he was awarded the Nobel Peace Prize.
The energy changed when the Dalai Lama entered, Stevenson recalled in an interview before heading to the Coliseum. "It was a quantum shift. He seems to radiate compassion -- it's a wonderful thing."
The experience was a turning point for Stevenson, and she began studying at the Deer Park Buddhist Center and Monastery, which she had not even known existed.
The presence of the center in the nearby town of Dunn is the reason that this is the Dalai Lama's fifth visit to Madison. It is run by Geshe Lhundub Sopa, a close friend of the Dalai Lama since before they both fled the Chinese occupation of Tibet in the 1950s. The Dalai Lama is expected to return next year to dedicate a new temple at Deer Park.
Two decades after her path crossed that of the Dalai Lama, Stevenson said she is impressed by the way that the Dalai Lama and other Buddhist teachers "walk the walk."
"Their behavior mirrors what they are teaching -- their compassion, their personal responsibility for their actions -- it resonates with what is going on in the world."
Student appeal: Paula Hirschboeck, professor of philosophy at Edgewood College in Madison, said in an interview that the Dalai Lama "touches our deepest yearning for happiness, which he believes comes from oneness achieved by experiencing all beings through compassion."
"Who could resist that?" Hirschboeck asked.
Hirschboeck said the Dalai Lama's 1999 book, "Ethics for the New Millennium," is among the texts she uses for a graduate level ethics course, adding that "students respond wonderfully."
The ideal of humanity united by shared experiences is not unique to the Dalai Lama, she acknowledged. But his teaching that people create their own suffering by not understanding our connectedness deepens that notion.
"Buddhism emphasizes that we can trace our suffering, as experienced personally and in all humanity, to our deluded minds -- to our misunderstandings of who we are," Hirschboeck said.
"My students really respond to the idea of the power of the mind to free or enslave us."
Outside the Coliseum Wednesday, three high school students from Brookfield, Wis., said they were curious to learn more about Buddhism.
Courtney Morgan, 17, said her interest was piqued after reading an autobiography of the Dalai Lama that introduced her to the modern history of Tibet, which was invaded and occupied by the Chinese in 1950. "It was really moving," she said of the Dalai Lama's story of being forced into exile.
The Dalai Lama was born Tenzin Gyatso to a peasant family in Tibet in 1935, and was recognized at age 2 as the incarnation of the Buddha of Compassion.
Just a human being': As he remarks in his 1990 autobiography "Freedom From Exile," some people call him a god-king. Hirschboeck describes him as the incarnation of ultimate enlightenment, while Stevenson points out that one of the Tibetan names for the Dalai Lama means "presence." Another student called him the "emanation of compassion."
"To me 'Dalai Lama' is a title that signifies the office I hold. I myself am just a human being, and incidentally a Tibetan, who chooses to be a Buddhist monk," the Dalai Lama wrote.
His office is both political -- which angers Chinese officials because he insists from exile on the continued sovereignty of Tibet -- and spiritual, which reportedly has prompted death threats from an al-Qaida-linked group for his celebrated advocation of non-Islamic beliefs.
Despite his fame, and such honors as the Congressional Medal of Honor to be awarded this fall, the Dalai Lama lives simply in a small concrete house in Dharamsala, India, said Penny Paster, who with her husband, Dr. Zorba Paster, is a longtime friend of the Dalai Lama.
"He refuses to take any payment for his teachings, and lives on donations like any monk," Paster said. Traveling expenses are covered by sponsors of an event.
On Wednesday, "sponsors" of the Dalai Lama's visit paid $1,000 for preferred seating at his four teachings, a reception and dinner with him, and other perks. Some 175 people elected to become sponsors.
David Felker of Milwaukee, who attended with his daughter, Emma, was among the sponsors. He said it was the kindness that emanates from the Dalai Lama that spoke to him.
"Where there is goodness, it will attract others toward it," he said.
'Man of peace': Several of those interviewed said they appreciated Buddhism's respect for all religions, and the Dalai Lama's call to each to find and follow one's own path. The attitude helps clergy of all stripes appreciate the Dalai Lama's message.
Rev. Bill White, pastor of Bethel Lutheran church in Madison, said the Dalai Lama's message resonates especially with people of the present age.
"In a world where we're a little embarrassed about our materialism, I think we are fascinated by people of integrity. It is pretty obvious that he is that," White said.
Ken and Patricia Shifferd traveled from northern Wisconsin to see the Dalai Lama and visit their daughter, who is a nun at Deer Park.
"He is the principal man of peace in the world," Ken Shifferd said. "I have never seen anybody else who radiates such love. The connection is very emotional. He is a real physical presence."
UW graduate student Mike Kruse said in an interview that he is most attracted to the Dalai Lama's political and social ideas. "The thing that sticks out is how interconnected everything is, how the political is connected to the economic," Kruse said.
Kruse also is touched by the Dalai Lama's simple style, he said. "He's very jolly and charming, and his sort of broken English makes it more charming, while at the same time it's profound."