Speaking for their hearts
By Manya A. Brachear, Chicago Tribune, May 7, 2007; Tribune staff reporter Hal Dardick contributed to this report
Thousands gather for guidance, inspiration from Buddhist leader
Chicago, IL (USA) -- With trademark humility, a hearty laugh and simple suggestions for cultivating compassion in children, the 14th Dalai Lama disarmed a crowd of more than 11,000 students, spiritual seekers and the curious Sunday in Millennium Park.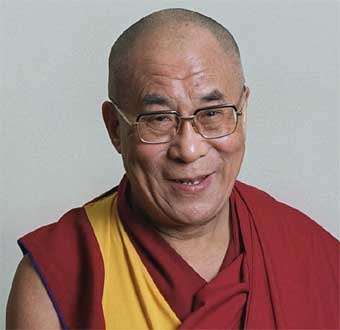 Earlier in the day, the exiled spiritual and temporal leader of Tibet delivered his first Buddhist teaching to a Chicago audience at Harris Theater. And at a VIP luncheon that honored benefactors and politicians such as Sen. Dick Durbin (D-Ill.), he delivered a gentle rebuke of China's policies in Tibet.
"We are trying to tell the Chinese government the present policy is counterproductive," said the Dalai Lama, 71. "Once we get meaningful autonomy ... we will be loyal and there will be more unity and genuine stability ... and genuine prosperity for Tibet."
The Dalai Lama's visit to Chicago was the last leg of a 12-day U.S. tour before heading for Australia. Stops included the Hawaiian island of Maui, San Francisco, Houston and Madison, Wis., where he spent considerable time at a monastery run by one of his spiritual mentors.
After assuming control of Tibet as a teenager in 1950, the Dalai Lama fled in 1959 following China's takeover of the mountainous nation. He has lived in northern India, the center of the Tibetan government-in-exile, ever since.
Sunday's appearance was his fourth in Chicago. His first in 1993 came on the heels of unprecedented talks between China and the U.S., which called for China to engage with the exiled leader. Then addressing the Parliament of World Religions, the Dalai Lama upheld the cause of human rights for the millions of Tibetans living under Chinese communist rule, a quest that earned him the 1989 Nobel Peace Prize.
Since then, his mission has shifted from playing politics to preserving Tibetan Buddhist culture beyond costume, song, dance and cuisine. He has worked to foster Tibetan Buddhist ideals as well. Tibetan Buddhist monasteries are springing up around the world, including the one in Madison where he stayed last week.
"We have a rich cultural heritage," he said Sunday. "We are comparatively more compassionate, more peaceful. That kind of cultural heritage really resonates in today's world."
His message resonated with many audience members at the morning teaching session and the afternoon talk.
Steve Selka, 36, is an anthropologist from Chicago who shifted from Catholicism to Korean Zen Buddhism seven years ago. Selka's tradition is different from what the Dalai Lama teaches but shares many similarities.
"He's a man who is able to present Buddhist teaching in an accessible and human way, and I appreciate that," he said. "It kind of refocused me that Buddhists should have compassion for their enemies. That's the hard part."
Chicagoan Thom Ayres, 47, a musician who has a Buddhist chant tattooed on his wrist, said seeing the Dalai Lama for a second time was uplifting. He saw him at Medinah Temple on the Near North Side in 1996.
"His message is entirely positive. He has an aura. I don't know if everyone projects it on him, but it is real, it is palpable," Ayres said.
The Dalai Lama insisted he was not in Chicago to proselytize. At the teaching session in the Harris Theater, he implored a crowd of about 1,500 to open their minds to the multitude of religious traditions around the world.
"As you know, all major traditions have basically the same potential," he said. "All have the same message, the message of love and compassion ... that is the foundation of nonviolence."
Believed by Tibetan Buddhists to be a reincarnation of the deity of compassion, the Dalai Lama delivered a teaching on the Tibetan Buddhist principle of interdependence, the belief that all life is connected. He based his teaching on the Tibetan spiritual classic "Eight Verses for Training the Mind," eight stanzas that he has recited daily since learning them as a child in Tibet.
Before the official teaching began, about two dozen monks on stage with the Dalai Lama chanted mantras in low, guttural tones. The Dalai Lama told the audience that when he was young, he aspired to chant with such a voice. But every time he tried, he would cough. He choked up with laughter as he recalled the story, prompting him to cough more before continuing.
The stage was decorated to resemble a traditional Tibetan Buddhist monastery with a traditional tapestry depicting a scene from the Buddha's life, suspended above. The Dalai Lama sat upon an ornate throne constructed by Chicago-area Tibetan craftsmen.
His talk in the afternoon had a more light-hearted tone. As lake winds swept through Pritzker Pavilion, the monk warded off the chill with his maroon and saffron robes and tucked his red stocking feet beneath him as he crossed his legs.
"My talk is not that serious. Just a talk," he said. "If you came for a message, you will get disappointed."
He let down very few. A quiet stillness fell over the farthest reaches of the park's lawn as he implored listeners to love their enemies and transform their anger into compassion.
Anya Maziak, 25, a Ukrainian Catholic, believes the Dalai Lama's teachings fit squarely with her Christian faith.
"I thought some of the things he was saying are akin to the commandments," she said.
Larissa Hotra, 25, and Jeannette Matuska, 31, came with no expectations but to satisfy their curiosity about the celebrity monk. They certainly didn't expect his contagious chortling.
Matuska was particularly moved by his call to educate children's hearts and their brains, so future generations engage in dialogue instead of what the Dalai Lama calls the "outdated" concept of war.
"That is so not codified in our curriculum," she said. "Compassion? Warm-heartedness? No. Competition. That was absolutely the most important thing he said."