'Unitarian Buddhist' finds dream of retreat center, one can at a time
by Jeremy Gantz, Medill, May 18, 2007
Chicago, IL (USA) -- After retiring as the executive director of a Northwest Side boys and girls club nine years ago, Richard Brandon began collecting cans. Each time he discovered another nickel in the form of discarded aluminum, the self-described "Unitarian Buddhist" repeated his custom-made mantra: "Can happen."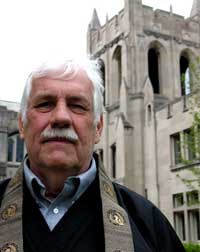 << Richard Brandon, a "Unitarian Buddhist" who spent four years collecting cans to create a retreat center in Wisconsin, wears his meditation robe and phoenix 'kasa' outside of the Lake Street Church in Evanston.
Six years later, with the help of friends – freelance can collectors – Brandon was finally able to buy what he had spent 10 years dreaming about: a nonsectarian Buddhist retreat center two hours from Chicago.
The center, called Bright Dawn Home Spread and located on a converted farm in Plymouth, Wis., is the culmination of Brandon's 50-year spiritual odyssey.
Now a lay Buddhist minister whose Dharma name is Zenyo, or "meditating sun," the 71-year-old's life has changed dramatically since he was a boy attending Latin and Polish-language Masses with his mother.
Or perhaps not. Perhaps Brandon has remained the same, always seeking the proper path to improve the world around him. As he says, "Everything is wonder. And everything is becoming."
A book sparks a journey
Brandon discovered Buddhism through an interest in meditation. He was raised Catholic but never took to it, dissatisfied with the catechism classes his family pushed him into in high school.
"I recall asking questions and not being satisfied with the answers," Brandon said.
And although he was baptized in his wife's evangelical church in Logan Square just before their marriage in 1955 – her family required it – a book recommendation quickly pulled him away from his wife's church.
Brandon's brother-in-law gave him "The Quest of the Overself" by a British mystic and philosopher Paul Brunton, and he began immersing himself in meditation.
"The Eastern way was not based on words, it was based on spiritual meditative practice, sort of a mysticism," Brandon said earlier this month. "For some reason that really appealed to me."
But rather than make a break with Christianity entirely, Brandon began visiting Unitarian congregations as he delved more into meditation while studying at George Williams College, then in Hyde Park.
"Unitarians respected the path that each person was on, whatever that path was," Brandon said. "And they were always on the forefront of social action – women's rights, prison reform. All kinds of social action issues."
Today, 50 years later, he is president of the American Buddhist Association, an independent spiritual organization dedicated to promoting Buddhist teachings and practices in a nonsectarian way.
It was created in Chicago in 1955 by the Rev. Gyomay Kubose, founder of the Buddhist Temple of Chicago, who sought to make Buddhism available to all people regardless of linguistic and ethnic background.
Today Brandon describes himself as a Unitarian Buddhist and continues Kubose's mission to develop a distinctly American brand of Buddhism outside of the established Asian traditions.
"The two things – Unitarianism and Buddhism – seemed to address my spiritual path. And also my social activism, as far as the Unitarians. So those two things came together."
'It's been a transformation'
Although he has meditated for more than half his life, Brandon is no monk.
To the contrary: Buddhism has helped the naturally shy resident of Chicago's Ravenswood Manor neighborhood, who moves his 6-foot-2-inch frame slowly and methodically, become more engaged with the world, his wife says.
"Richard was always on the quiet side. Buddhism has really opened him up," said Maryann, 69, who married her husband while she was still in high school. "There was a time when he couldn't make a speech. It's been a transformation."
But Brandon's Buddhism hasn't left his wife untouched. Maryann, who also considers herself a Unitarian Buddhist, is head cook at Bright Dawn Home Spread and treasurer of Heartland Sangha. The organization is affiliated with the American Buddhist Association and offers a biweekly American Buddhist service Saturdays at the Lake Street Church in Evanston.
"I guess I came along for the ride after a while," she said last week. "I had my questions about Christianity myself, so it wasn't hard for me to fall out of it."
If Brandon's life has been about anything other than spiritual pathfinding, it is children.
He helped care for a household in constant flux – he and his wife have raised a total of 19 children, including 14 foster children – while dedicating his 37-year career to the Neighborhood Boys and Girls Club, which serves the North Park and Albany Park neighborhoods.
Jim McNulty, who took over as the club's executive director soon after Brandon retired in 1998, said Brandon was a legendary figure to thousands of kids while program director from 1960 to 1977.
"Rich was certainly an institution here for anyone who grew up here in the '60s and '70s," McNulty, himself a club member as a boy, recalled last week. Brandon's Buddhism was well-known and helped make him a better youth leader, he said.
"He's very calm, and doesn't let things get to him very often," McNulty said. "And that always rubbed off on everyone."
Renewal, not retirement
For most, retirement is a destination, the restful prize after a life of work. For Brandon, it has been a chance for renewal, a time for additional spiritual study.
He usually can be found up north between May and October, when Bright Dawn is open for retreats and spiritual treks. But he packs plenty into the retreat center's off-season, teaching meditation classes at the Buddhist Temple of Chicago, leading Buddhist services at the Lake Street Church and visiting high schools to discuss meditation.
And after attending a prison chaplains convention in Springfield five years ago, he even began corresponding with a handful of Illinois inmates interested in Buddhism.
"He's really devoted his life to learning about Buddhism and teaching," said Asayo Horibe, president of the Buddhist Council of the Midwest, which brings together more than 50 Buddhist organizations throughout the region to foster their development. "He's always in the community helping people. He has gone out of his way for outreach."
But although he is constantly looking to help others through Buddhism, Brandon's own spiritual studies are far from over.
Last year he became the first to complete the Bright Dawn Institute's lay dharma teacher and lay minister program, which was established by the American Buddhist organization to deepen individuals' knowledge of "the Buddhist Path" and prepare them to teach it.
"If you try to know anything, it's beyond knowing," Brandon said earlier this month. "The Buddha realized that everything's changing. Life is dynamic."
Brandon won't be sitting still anytime soon. His dream, Bright Dawn Home Spread, remains a work in progress, its four peaceful acres still not owned outright.
As Brandon left Evanston's Lake Street Church after a Saturday Buddhist service earlier this month, he stopped suddenly at the edge of a sidewalk. Bending over, he picked up a crushed aluminum can. One more to add to the retreat center's mortgage fund.
"Can happen," he said, just before crossing the street.
Need some peace and quiet?
Bright Dawn Home Spread, a nonsectarian Buddhist retreat center in Plymouth, Wis., open to Buddhists and non-Buddhists alike, will have its first retreat of the year later this month. To learn more about programs or to schedule a visit, call (920) 528-1364 or visit the Web site listed below.
Richard and Maryann Brandon will be having a rummage sale to benefit the center from 9 a.m. to 4 p.m. Sunday (May 20) at 4524 N. Richmond St.
If you're too busy to find Enlightenment in Wisconsin, the Heartland Sangha will conduct an American Buddhist service at 11 a.m. Saturday (May 19) at the Lake Street Church, 607 Lake St., Evanston.